Varnhems Klosterkyrka

Varnhem
Discover the middle ages in a well-preserved monastery setting
The magnificent Varnhem church and the monastery ruins are almost a thousand years old, and their history is definitely worth discovering. Stroll under the church's Romanesque-Gothic arches, where the monks' prayers and songs once encouraged reflection.
Fascinating history
Varnhem and its abbey ruins, at the foot of Billingen mountain, are situated in the middle of Västergötland and were a major spiritual, political, cultural and economic centre. The abbey's well-preserved setting was the last resting place of four Swedish medieval kings as well as the founder of Stockholm, Birger Jarl. There are expert guides available during the tourist season who can explain the details of the church's fascinating history.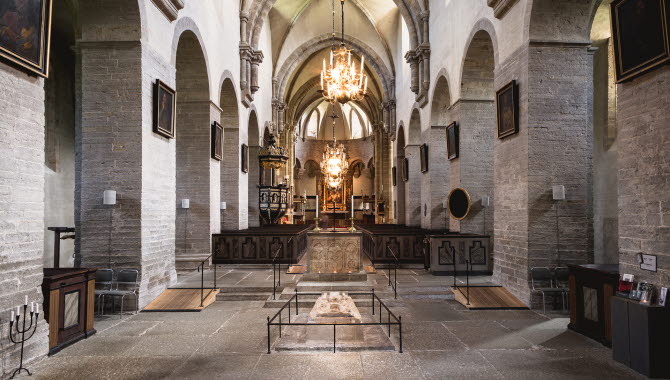 Photographer: Mårten Bergkvist
The museum and excavations
The abbot Henrik and his Cistercian monks came to Varnhem in 1150 and founded the self-sufficient monastery, which had a water and sewerage system among other things. You can read all about this, and much more, at the Varnhem monastery museum just behind the church on a hill. While you're here, take the opportunity of visiting Kata farm nearby and see the ruins of one of Sweden's oldest churches.
Summer music in the monastery church
Don't miss a good opportunity for refreshments after your visit. Coffee with delicious cakes or sandwiches are on sale in the café beside the church. Sit out in the lovely garden and enjoy them when the weather is fine. There is also music played in the church during the summer months. Be sure to take a stroll along Rosenstigen, a beautiful walking trail of about two kilometres that winds its way around the monastery site. Make sure to stop by at Hornborgasjön - one of Europe's most important bird lakes.