Elisabeth Hesselblads trail

Herrljunga, Fåglavik
Pilgrims path - A Birgitta path named after Saint Elisabeth
The trail is an approx. 21 km long circular trail and goes from Herrljunga to Fåglavik and back. It is named after Saint. Elisabeth, who was born in Fåglavik and who was canonized in Rome on June 5, 2016.
The trail is an approx. 21 km long circular trail and goes from Herrljunga to Fåglavik and back.
It is named after St. Elisabeth, who was born in Fåglavik and who was canonized in Rome on
June 5, 2016.
The Elisabeth Hesselblad trail has been created in memory of Sweden's first saint since
the Middle Ages. Elisabeth Hesselblad was born in Fåglavik in 1870, died in Rome in 1957
and was canonized on 5 June 2016 by Pope Francis in Rome. The trail runs from Herrljunga
township to her birth village, Fåglavik, where it passes her birth house and the memorial
site at Fåglavik's chapel. Elisabeth Hesselblad was the one who re-established the Order of Saint Bridget,
the Birgittine Order. Hence the Pilgrimsleden is a path with the pilgrim mark for
Birgittaleder approved by the Pilgrimscentrum in Vadstena.
Quick facts
Length:  21 km
Time: approximately 6-8 hours at a leisurely walking pace
Level of difficulty: overall the trail is classed as moderate
Terräng: forest paths, forestry tracks and country roads
Markings: there are red waymarks with Birgittasigns along the path
Rest areas and barbecue areas
There are a few rest areas along the trail at Kärleksstigen along Kvarnvägen and
Fåglavik's chapel. There are barbecue areas along the trail at Spegeldammen on Haraberget, by the lake on Orraholmen, wind shelter and barbecue area at Kullingsvik , as well as the playground
in Fåglavik (follow the road just north of Elisabeth Hesselblad's house). If you want to make a short detour from the EH trail, there are is a barbecue areas along the Urstensleden in Fåglavik.
Hikingshelters
 For those who want to spend the night outside, there is a shelter from the wind at Kullingsvik, right next to the river Nossan. Do you want to spend the night in the wind shelter or if there are several of you you may rent an overnightstay at Equmenia's summer home? On the Equmenia Herrljunga website you can find information, contact details, etc.
Haraberget's Hembygdspark and Orraholmen's Heath The trail passes Harabergets Hembygdspark, which is nicely situated on a slope down towards the river Nossan, with several older buildings.
Natura 2000-area
Orraholmen's heath is a Natura 2000 area with conservation status for meadow and pasture land of national interest. During the summer months, free-ranging cattle graze in the pasture. Remember not to disturb the livestock and to have dog on a leash, and make sure to close any gates you pass.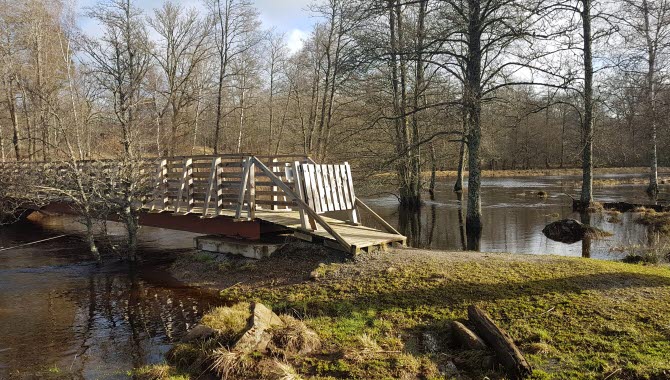 Destinations in Fåglavik
The trail merges in two places with the Urstensleden, which runs in the area around Fåglavik, and it is fine to combine this trail with the Elisabeth Hesselbladsleden.
Book a visit to Elisabeth Hesselblad's birthplace and see the place where Saint Elisabeth was born. Visit the memorial statue of Elisabeth Hesselblad and Fåglavik's chapel. Make a short detour and see the memorial site for Fåglavik Glasbruk, which was once the town's largest factory and visitor attraction. In Fåglavik there is also Fåglavik station, the only preserved one of an early type of station house that was designed by SJ's architectural office. Read more here about places to visit in Fåglavik
Book accommodation, lunch or coffee
Are you a group that makes pilgrimages or cycles along the trail and would like to book in, if possible. coffee in Fåglavik, see contact details and follow the link above for both Elisabeth Hesselblad and Fåglavik's Chapel. Buy a coffee or packed lunch with you from one of Herrljunga's restaurants or cafes or grocery stores. If you want to book accommodation along the trail, there is a cabin with a close connection to the trail, Stuga Solliden. For more tips on overnight accommodation, visit Accommodation in Herrljungabygden.
Hiking trail manager: The asociation - Network for development and culture in Fåglavik.
Fact about the trail
Length:
The entire tour trail is about 21 km. Where each stage is about 10.5 km.
Approximate times:
The whole trail is about 21 km and can be walked in about 6-8 hours at a slower walking pace, including shorter stops. To walk a stage between Herrljunga to Fåglavik, calculate a time of about 3 hours at a leisurely walking pace and shorter stops.
Marking:
The trail is marked with red paint on posts and with the Birgitta sign. The Birgitta mark is a Pilgrim's mark for Birgittaleder. Saint Elisabeth was a Birgittan nun.
Level of difficulty:
The trail is classified as medium as it has no major level differences.
The surface varies from small forest paths, to dirt roads and shorter stretches of paved road. Relatively good accessibility, but there may be some wetter parts, mainly during spring, autumn and winter.
Suitable for:
The hiking trail is suitable for hiking, a longer run or for those who want to get around by bike. For those who get around  by bike, there may be areas where you have to lead the bike as it may be a smaller path. As the trail is slightly hilly, it is suitable for most people with normal and good fitness.
Start and end:
Start  hiking Herrljunga:
Feel free to start your tour at Herrljunga Station, where there is plenty of parking on either side of the station. At Herrljunga station, you can choose which direction you want to walk the trail. Here you can choose to go either the southern part through the Herrljunga settlement towards Haraberget and further towards Fåglavik If you want to start walking the northern part of the trail, the trail starts on the north side of the railway underpass at the station for walking to Fåglavik. It is also possible to start the hike at Haraberget, or at Orraholmen.
Start hiking from Fåglavik:
At Fåglavik's chapel there is a car park, here there is also a wind shelter for those who want to sit down for a while and rest. Should you go clockwise, follow Glasbruksvägen through the community of Fåglavik and turn right at the road when you have passed the railway crossing. Should you go counter-clockwise, start the hike along the road towards Kinnarp and towards Ursten, right at the railway the trail turns off towards Bjurslätt and further towards Herrljunga.
How to get here:
You can find the Elisabeth Hesselbladsleden in Herrljunga municipality, 8 miles east of Gothenburg, in the middle of the inland of Western Sweden.
Herrljunga can be reached by train in about 50 minutes from Gothenburg and Skövde and about 40 minutes from Borås. By car to Herrljunga from Gothenburg and Skövde it takes about 1 hour and from Borås it takes about 45 minutes.
There is no daily bus connection to Fåglavik, but you can order Närtrafik via Västtrafik. 
By car from Herrljunga township, it takes about 10 minutes to drive. Drive road 183 towards Borås, turn off onto road 181, towards Falköping. After about 5 km, turn off onto Glasbruksvägen and follow the sign for Fåglvik for 3 km. In Fåglavik you  drive until you see Fåglaviks chapel, where there is a parkinglot.