Bråttensby church

Bråttensby, Herrljunga
Bråttensby wooden church. The oldest parts are said to be from the 17th century
On a high hill just beside road 181 lies Bråttensby's white wooden church.
Bråttensby church
The oldest parts are said to be from the 17th century and from the beginning the church was built without an armory and sacristy. In the Middle Ages, according to tradition, there must have been a church in a place farther east in the parish, but why one abandoned the old church and built a new one does not tell the story.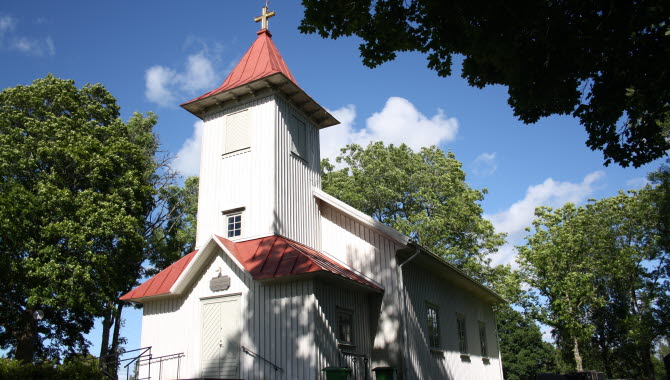 The church was restored as early as the mid-18th century and was then given the altarpiece from 1746 which shows a crucifix with John on one side and Mary on the other and with an elliptical painting on top with the god name JAHVE in Hebrew. At the same time, the church also received a new altar ring and new benches.
In the 1890s a new restoration was made.
The church then got a partly new look, including new walls and new roof, both of which were clad with shavings. A grandstand and a sacristy were also built. The tower was also rebuilt and got its current look.
Bråttensby church was included in the restoration in 1957 as well as 1967-1968 when the altarpiece was renovated to its original appearance. Then the pulpit also got a canopy and many fixtures got new color scheme and gold coating.
In the church you can se two coat arms
There are two coat of arms in the church. One is located on the south side of the longhouse and has the inscription HR Gyllenhaal, the smaller one is on the north side with the inscription IB Gylengrönn. At the end of the 19th century, two reclaimed burial chambers were found under the floor of the church where the two nobles with families rest. In the church also hangs the Brownstone burial coat of arms from 1655.