Kuststigen Kungshamn – Tullboden

Sotenäs
14 km, moderate
Along this stage of the Kuststigen from Kungshamn to Tullboden/Bua (Soteleden stage 7) you'll pass several idyllic coastal villages. The hike leads through varied scenery.
Quick facts
Length: 13.8 km
Timing: around 4-5 hours
Dificulty: moderate
Terrain: coastal villages and paths, some hilly parts

A coastal hike
Along this stage of the trail there are several idyllic seaside villages. You'll start in Kungshamn, the main town in Sotenäs. The hike continues to Hovenäset, a picturesque little coastal village where most of the well preserved architecture is from the beginning of the 1900s. Near to Hovenäset, situated in a beautiful valley between the hills, you'll find Johannesviks Camping, with family friendly accommodation in cabins and tent pitches, a restaurant, several play areas and its own beach.
From bare rocks to lush valleys
Terrain on this stage is as varied as it is on most other parts of the Kuststigen/Soteleden. You'll hike from the treeless rocky landscapes up in the quarry down to leafy valleys. Between the bare rocks in the Klevekilen nature conservation area in the east are isolated bogs and marshes, which are home to pine forest in parts. Förålarna is former grazing land, where you can stumble across a botanical rarity, Hair Sedge. Borgen Bratta is a standing stone on Klevekilen bay's western shore, a monument to a story from the time of the Vikings.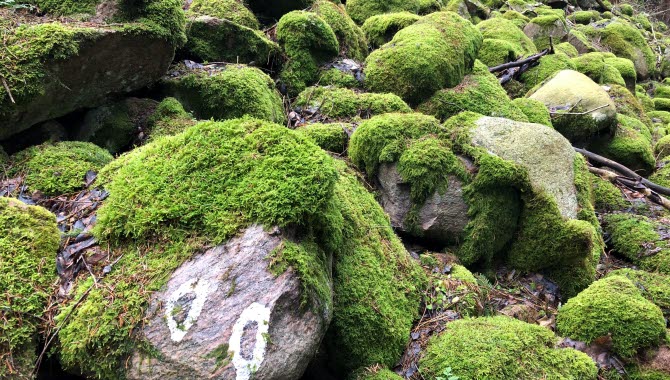 Make a detour to Smögen
Kungshamn and Smögen have been connected by a bridge since the 1970s. Take the opportunity to visit Smögen by either walking across the bridge or taking the Zita boat over from Kungshamn. Sandön is an inviting destination for outdoor activities. Its beautiful rocky landscapes provide excellent opportunities for swimming and sport fishing.
Photographer: Åsa Dahlgren

In Smögen there are several shorter hiking trails to choose from that a local organization, Smögen's Öråd, has constructed. Smögen has a lot to offer. You can, for example, stroll up and down the famous Smögen boardwalk among the shops and restaurants, visit the country's second largest fish auction or go on one of the popular fishing trips with, among others, Smögen's Fisketurer, Smögen's Fishing or Skärgårdsturer. If you want to stay one or more nights, there are plenty of nice accommodation options to choose from.
Fact about the trail
Length:
This stage is 13.8 kilometres.
Approximate times:
This stage takes about 4 to 5 hours to walk.
Marking:
This stretch is part of both the Kuststigen and the Soteleden. The Kuststigen is waymarked by name and in blue. The Soteleden is waymarked with blue/white marks on posts and trees and cairns in some places. There are good maps of the path (see more under Maps).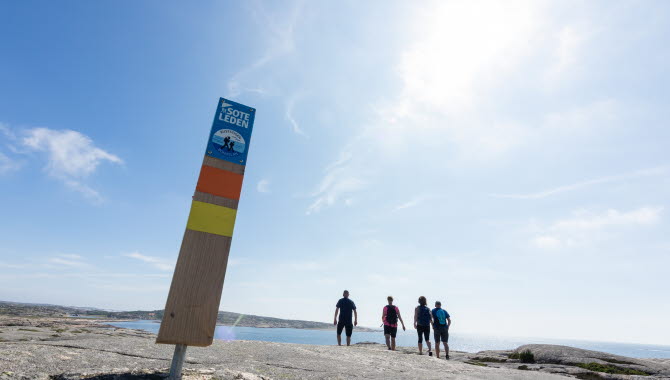 Photographer: Fredrik Schenholm
Level of difficulty:
The trail is classified as moderate and goes through varied terrain, both by the sea and in forests. It can be boggy and hilly in parts.
Start and end:
This stage starts next to Kungshamn's sports centre/exercise tracks, where there is a car park. Kungshamn's bus station is by Hälsans Hus, around 800 metres from the start.
How to get here:
It's easy to get there by bus in around 2 hours 20 minutes from Gothenburg, changing at Torp terminal in Uddevalla. Direct buses from Uddevalla take about 80 minutes to get to Kungshamn.
Map:
A digital map of the trail can be found on Google Maps and the Sotenäs website. Map brochures can be purchased in, amongst other places, Tourist Information Centres in the area, and be downloaded from the Sotenäs website.