Ribbingsfors Herrgård

Gullspång
Accommodation in historic manor with modern comforts
Ribbingsfors Manor is beautifully situated among lovely oak meadows next to Skagern, West Sweden. After many years of hibernation, the manor has now been brought back to life through careful renovation. It still has the feeling of yesteryear, but that is now wedded with modern levels of comfort.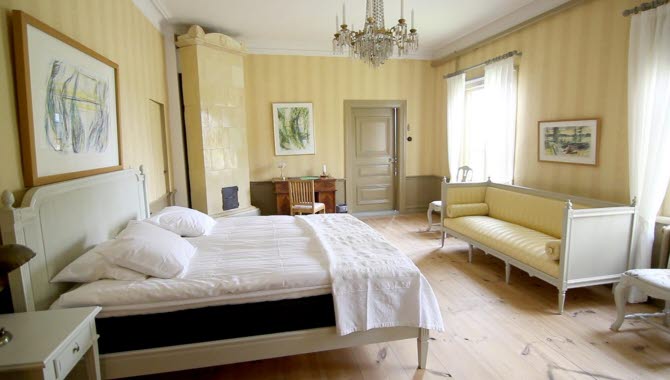 Exclusive accommodation
Ribbingsfors Manor offers exclusive accommodation and conference facilities in a historic setting. The Bengtssonian wing is where the author Frans G Bengtsson used to live and where he wrote the second part of Röda Orm, a Swedish classic. Spend the night in one of the manor's suites if you really want to spoil yourself.
The restaurant is only open to conference guests. You can ask the reception for tips about the restaurants in the area.
Active stay
If you hanker after adventure and experience during your stay, you can go fishing or kayaking on the sea. Calmer activities on land include many beautiful footpaths to discover in the area around the manor.
InfoPoint
Would you like more ideas about what you can find nearby? Ribbingsfors is a certified InfoPoint where you can pick up brochures and maps and knowledgeable staff can help with your questions about the area.