Rörstrand Museum

Lidköping
Crown jewel of Swedish porcelain
The history of one of the oldest porcelain factories in Europe and the crown jewel of Swedish porcelain is brought alive for you at the Rörstrand Museum. Almost three centuries of porcelain, from 1726 until the present, are illustrated in the collections. Not only can you see splendid, cherished sets of porcelain, but also tools, sketches and a circular kiln.
Porcelain history
A stone's throw from Lidköping's central square, in the old porcelain factory, is Rörstrand Museum. Rörstrand was founded in 1726, with the dream of making genuine porcelain. After 200 years of activity in Stockholm, Rörstrand moved to Gothenburg, and after ten years on the west coast the company moved to modern premises in Lidköping. A golden age began for Rörstrand, led by skilled craftsmen and artists.
Photographer: Jonas Ingman
Art pieces and now-classic services made Rörstrand a part of Sweden's cultural heritage. The company brought great renewal to household china, using unconventional designs and ground-breaking techniques. The museum takes you on a journey through 18th-century hand painted faience and flintware, 19th-century Romantic services with huge, industrially made services and china as a status marker, 20th-century Art Nouveau and 'prettier everyday goods', to 21st-century multi-functionality and a digital approach.
Food and refreshments
Have a relaxing break in the centre's own café next to the exhibitions. Enjoy a good lunch or coffee and cakes, always served on genuine Rörstrand porcelain of course.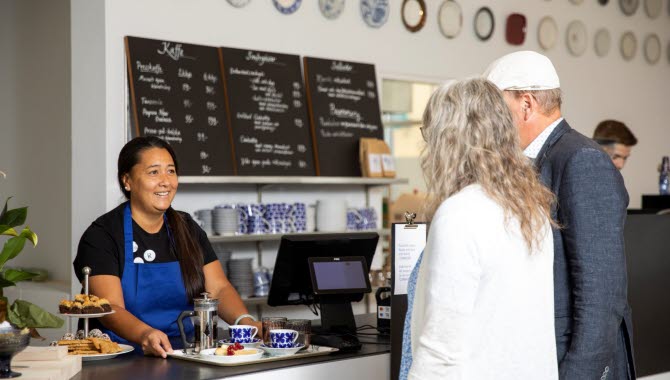 Photographer: Rörstrand Museum
InfoPoint
Would you like more ideas about what you can find nearby? Rörstrand Museum is a certified InfoPoint where you can pick up brochures and maps and knowledgeable staff can help with your questions about the area.