Nimbus

Öckerö
Delicious food in Gothenburg's northern archipelago
Enjoy a delicious lunch or coffee at Nimbus in the company of good friends. If you want to stay overnight, there are comfortable, clean rooms in the hostel. Whether you are eating or staying, the salt of the West Sweden archipelago is all around you; in the air, on the table and outside the bedroom window.
Delicious traditional Swedish home cooking as well as new trends
Nimbus chefs are famous for their good lunches. Classic Swedish home cooking is combined with novel, nutritious food, with fish playing a self-evident part. The salad buffet has become renowned after the restaurant's years of service. Enjoy good sandwiches, soups and home-made sweet buns in the Nimbus café. The range varies with the seasons.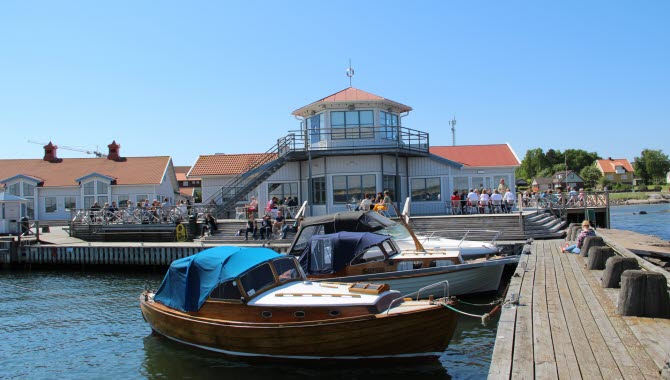 Large or small conferences by the pier
Nimbus Öckerö arranges conferences and events in a lovely setting by the sea, with piers and pleasure boats just outside the windows. Book one or more of the conference rooms - Tornet, Skäret, Bryggan and Hallen - that can cater for small meetings up to cinema seating for 250 people. Hold a one-day conference or stay overnight and enjoy some good food in the evening - your appetite will be whetted by the fragrance of the sea!
InfoPoint
Would you like more ideas about what you can find nearby? Nimbus is a certified InfoPoint where you can pick up brochures and maps and knowledgeable staff can help with your questions about the area.