Håveruds hotell

Håverud
Take a break and enjoy the view
Håveruds Hotell is located beside the Aqueduct tourist attraction, with the Dalsland Center, canal boats and museum right on the doorstep. Your accommodation offers you all this along with a magnificent view of the lake, Upperudshöljen.
Comfortable accommodation and relaxation facilities
Experience Dalsland at its very best, with nature right outside your window to broaden your senses and with cosy hotel accommodation that offers peace and tranquillity. With a marvellous view of the lake, Upperudshöljen, you can stay in one of the resort's three single rooms, 18 double rooms and four apartments – or even in your very own lakeside cottage. Breakfast is served daily in the dining room or on the terrace, and the restaurant is open for bookings. Lunch is served daily during the summer. If you wish, you can take the opportunity to soothe body, mind and soul in the jacuzzi and sauna. Håveruds Hotell is ideal for that extra-special conference or family celebration.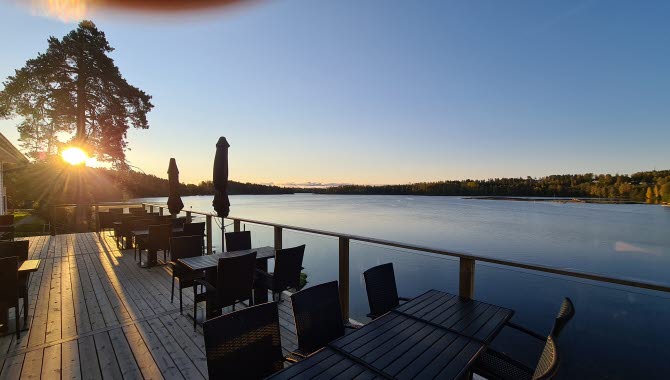 Aqueduct, canal boats and wilderness adventure
The hotel is just 500 metres from the main tourist attraction in Dalsland, the Aqueduct in Håverud, with canal boats and pleasure craft passing along the canal outside the Dalsland Center. Håverud is just a stone's throw from the Dalsland Pilgrim's Trail¸ which attracts lots of walkers.
To experience the natural landscape of Dalsland more closely, you can hire a boat, bike or canoe.
Ask for a fishing rod and perch or pike could very well end up on the menu that evening.