Family-friendly restaurants in Skövde
Going out to eat with the whole family may sound like a nice idea, but parents with young children sometimes struggle to find a restaurant with space for prams, a kids' menu and a child-friendly attitude. Here are some restaurants in Skövde that welcome diners of all ages.
GOLFRESTAURANG | Golfrestaurang enjoys a beautiful setting and views of Skövde Golf Course. Here, traditional dishes are combined with innovative cuisine, all prepared with love and the finest local ingredients. Children up to the age of 12 can help themselves to the lunch buffet for SEK 5 times their age. (For example, a five-year-old eats for SEK 25.) With tables inside and outside, there's plenty of room for prams. Child seats are also available. The toilet has a changing table if needed.
Address: Simsjövägen 11, 541 33 Skövde
Tel: +46 500-41 11 10


PINCHOS | Pinchos serves small dishes in tapas format. Small portions are perfect for young diners! You can also order a variety of dishes, ensuring that even the fussiest members of the family can find something they like. There are child seats and changing tables, and if you let them know in advance they can arrange a table with space for a pram. Once you arrive, ordering is easy using the Pinchos app.
Address: S:t Sigfrids gata 3, 541 30 Skövde
Tel: +46 500-41 02 00


RESTAURANG THAI HOUSE | Delicious Asian food in Östermalm. Try the popular buffet, or let children choose their own ingredients from the Mongolian buffet and watch them being prepared by the skilled chef. This is bound to be a highlight of your visit! There's space for prams, and child seats for younger visitors.
Address: Lärkstigen 2, 541 45 Skövde
Tel: +46 500-43 81 81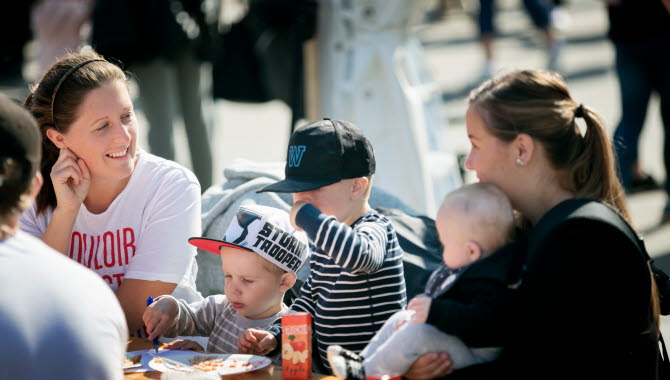 Photographer: Tobias Andersson

MAMMA MIA RISTORANTE & BAR | A homely restaurant that draws its inspiration from Italy. Enjoy Italian culinary passion on a plate! Perfect for all the young pasta lovers out there. Child seats are available for younger visitors.
Address: Hertig Johans gata 20, 541 30 Skövde
Tel: +46 500-41 20 00


BROOKLYN BURGER | Home-made burgers (using local meat) and dressings served in freshly baked buns, with a fantastic atmosphere. Here, kids can choose burgers with cool superhero names.
Address: Hertig Johans gata 10, 541 30 Skövde
Tel: +46 500-41 60 50


ORIENT PALACE | This beautiful Asian-inspired restaurant serves a wide range of Thai and Chinese dishes. Order à la carte, or try the tasting menu of up to nine Thai and Chinese specialities. If you need an extra child seat, this can be arranged.
Address: Kyrkogatan 20, 541 45 Skövde
Tel: +46 500-48 99 89


GRÄDDHYLLAN | Take the kids for a shopping lunch! Gräddhyllan at the Commerce shopping centre is a great place for a bite to eat at lunchtime. A pleasant atmosphere and a wide range of food and refreshments. If you sit at the edge of the dining area, there's plenty of room for prams and a good view of the small play area where fidgety children can burn off some energy. Child seats and changing tables are available.
Address: Hertig Johans torg 4, 541 30 Skövde
Tel: +46 500-41 75 55


RESTAURANG VALLE | Valle is right next to Arena Skövde with its water park, making it easy to find. You can enjoy delicious traditional meals, and all the dishes on the daily menu are also available in children's portions. Child seats area available, and staff can make space for a pram if you prefer. The restaurant's walls proudly display Skövde's sporting history. If you need to use a changing table, you will find one in the large toilet.
Address: Badhusgatan 4, 541 30 Skövde
Tel: +46 500-48 01 75


O'LEARYS | At this sports bar, you can challenge the family to a bowling match. There's a children's menu with plenty of choice, and child seats are available. There is room for a pram at most tables, and the largest toilet also has a changing table. O'Learys is located at Arena Skövde, so why not combine a day at the water park with dinner at O'Learys?
Address: Egnells Väg 1, Arena Skövde
Tel.: 0500-48 16 00


HELENSGÅRDEN | Helensgården is centrally located in the green oasis of Helén's Park. This is a great spot for lunch if you enjoy traditional dishes. There's plenty of space for prams, and an extra child seat can easily be arranged at the table. If you want to treat your child to something sweet after their meal, there's a wide range of home-baked offerings. Then it's time to play at the park's play area just outside!
Address: Hertig Johans gata 19, 541 30 Skövde
Tel.: 0500-78 95 15


BRÖDERNAS SKÖVDE | In the multisport arena Skövdehem Arena, at Lillegården, you find the restaurant Brödernas Skövde. Delicious burgers, pizzas and salads are served here for the whole family. For the youngest family members there are highchairs and a menu with, among other things, baby burgers, baby pizzas and chicken nuggets. Of course, there are also a lot of vegan alternatives to choose from and of course both burgers and pizzas are gluten-free for those who wish. Right next to the restaurant you will find, among other things, adventure golf, a trampoline park and a paddle hall. With a lot of fun and exciting activities nearby, Brödernas will be a great place to take the family for good food in a pleasant environment.
Address: Billingehovsvägen 3, 541 42 Skövde
Tel: +46 500-49 43 49