Eat local | Skövde is located in the middle of a rural area, and there are several local producers in the close area. In Skövde you will find several restaurants and stores that serve and sell locally produced food. Why not try a three course dinner at the cozy restaurant Den lilla krogen or buy your own local picnic basket at the small food hall Lilla Saluhallen? For more delicious local experiences, look under the title "Eat local" in this article>>
Photographer: Jesper Anhede

Arena Skövde | High speed waterslides, wavepools and a calm relax area – all of this, and much more, is possible to experience at Skövde's own indoor adventure waterpark Arena Skövde. Located only a few minutes from central Skövde you have no excuses – pack your swimming gear and get wet!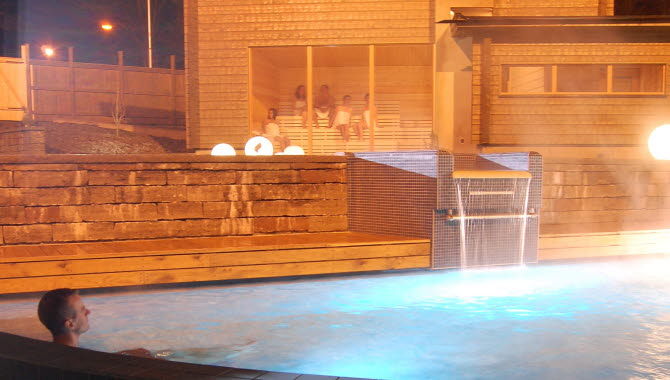 Photographer: Jesper Anhede


Hiking on Billingen | Billingen is a table mountain located only 3 km from central Skövde, hiding a treasure chest of nature experiences. One of the best ways to discover the mountain is by foot – walk the 57 km long walking trail around the whole mountain, or choose one of the day walks. The hikes will take you through various nature reserves, past stunning views and give you a great sense of the Swedish nature.
Photographer: Roger Borgelid
Discover history | The history of Skövde goes back to the medieval times, but the town ran into some issues during the years. Great fires have ravaged the town, and the oldest buildings that we have left are from the 1700's. The town today is a mix of the old and the new, and to learn more about the history of Skövde's city center you can download the free app Skövde Streetmuseum and go on a self-guided tour around town. We promise – there's even more than meets the eye!
Photographer: Tobias Andersson
BBQ with a view | The best way to enjoy a meal is outdoors, right? On different spots on our table mountain Billingen you will find BBQ-spots with free (yes, we said free!) firewood that you can use. Just buy something nice to BBQ and enjoy a breakfast in the sunrise with a lovely view, or sit down next to one of the lakes to enjoy the midday sun.
Photographer: Micaela Persson
Skiing on Billingen | During the wintertime, when the snow begins to fall over southern Sweden, there is one must-do in Skövde – to try cross-country skiing on one of the many tracks on Billingen! Rent skis and give it a try – there are tracks in various difficulties to try.
The nature reserve Silverfallet | A springtime must-do in the area around Skövde is to pay a visit to the stunning waterfall Silverfallet. Located around 20 minutes by car or 40 minutes by bus outside of Skövde, this gem is most beautiful during April and May, when the water level is at its highest and the nature begins to wake up after a long winter. Pack a picnic and put on comfortable shoes for a lovely day out in the nature.
Pro tip! On a snowy and cold winter's day the waterfall resembles any fairytale winter landscape. Why not pay it a visit during the winter?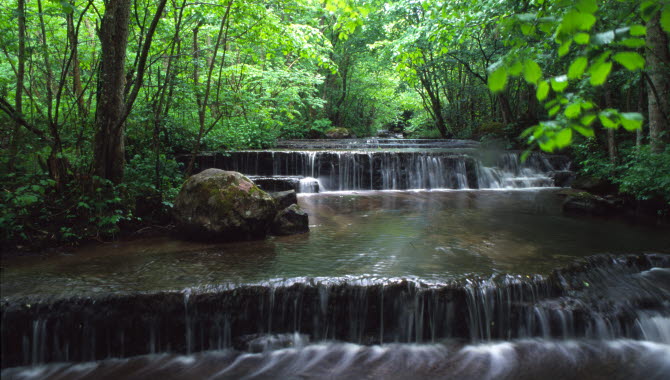 Photographer: Peter Nilsson

Valle area | Speaking of fairytale landscapes – the west side of the mountain Billingen, the so called Valle area, contains several thousand cherry trees, and for a few weeks during May each year, these trees burst into an ocean of white cherry blossoms. Discover the area by foot on one of the many walking trails or visit a nature reserve for a picnic. There are smaller country roads leading through the area, suitable for both a classic roadtrip or a bikeride.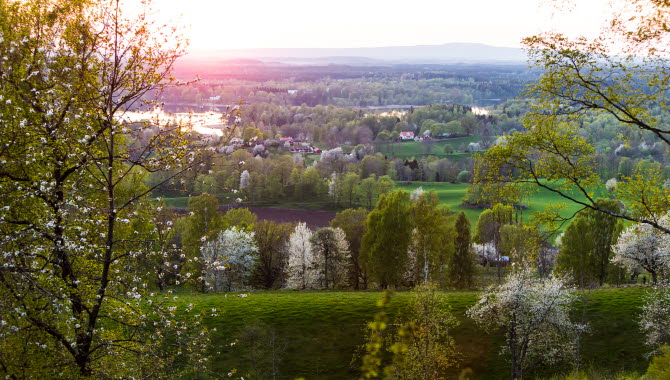 Photographer: Mårten Bergkvist
Biking on Billingen | Pro or beginner? It doesn't matter. The recreational center on Billingen offers biking experiences for anyone who wants to try. You will find MTB-tracks from one up to ten kilometers, a technique course and no less than two pump tracks. No bike? No problem. Just rent one from Träningskonsulten or 30K.
Photographer: Tobias Andersson
Get cultural | A must do for the culturally interested is a visit to the cultural center Skövde Kulturhus. On the second floor you can discover art from Sweden and Skövde's surroundings, with both a permanent and temporary exhibitions. If you want to dive deeper into the history and the culture of Skövde, you also have to visit the city museum at Skövde Kulturfabrik. Who doesn't want to come home and brag with fun facts and interesting stories about the place you've just visited?
Photographer: Tobias Andersson