There are lots of fun things to do in Skövde, but one of the best ideas is to take a trip into the countryside. So let's pack a picnic basket and head out to explore beautiful locations. Here, you can relax and enjoy your surroundings as you sip your coffee and tuck into a sandwich. Here are six suggestions for discovering local sights and nature.
BLÄNG BOG | This extensive raised bog on Billingen's plateau is a genuine mountain landscape, just 15 minutes by car from the centre of Skövde. In the winter, you can ski along the 8 km natural snow track through a glittering winter wonderland or by the light of the full moon. When the skies are clear and the stars shine brightly, you can lie on your back on the birdwatching tower for a magical view upwards.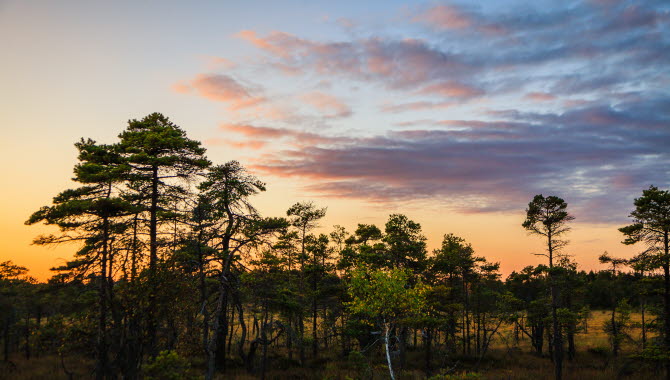 Photographer: Mårten Bergkvist
NOHLMARKEN | Visit this nature reserve in the summer, when more than 370 species of flowers are in bloom. Nohlmarken is renowned for its many different orchids, which thrive here during the summer. The nature reserve is a true floral paradise, and you can sit and relax on a bench as you enjoy a picnic.
Photographer: Tove Ekblad
RHODODENDRON VALLEY | Wandering through this hidden gem is an enchanting experience. This garden is close to the city, and is home to many rhododendrons. Here, you can walk through an almost jungle-like landscape below the edge of Billingen.
Photographer: Tobias Andersson
RYD CAVES | This popular destination is just a few kilometres from Skövde. Ryd Caves, on Billingen, offer fantastic views of Skövde. On the edge of the mountain, impressive diabase pillars emerge to form cave-like spaces. A visit here just before sunset or at dusk is truly magical – perfect for a quick selfie or a colourful masterpiece.
ASKEBERGA STONE SHIP | These 24 large stones make up Sweden's second largest ship tumulus. This mysterious monument is located near Tidan. It is unlike anything else in the country, and no one has yet been able to come up with a good explanation of its purpose.
Photographer: Mårten Bergkvist

VALLE | Valle is known locally by many different names, but is much loved by its residents. This undulating area to the west of the mountain plateau of Billingen consists of rolling hills and lush greenery. Each year thousands of wild cherry trees burst into a spectacular display of blossom here, making this the perfect destination during May.
Photographer: Roger Borgelid