Skövde Arena

Skövde
Swimming, sport and wellbeing under the same roof
Arena Skövde is a multi-arena and a place to meet for all generations. You can swim laps or jump and splash in the Water Park, or take it easy in the relaxation area. It is also an arena for top-level sport and international championships, concerts, exhibitions, bowling and has a gym.
Water adventure for children and adults
You can throw yourself into the waves and try out the water slides, or you can enjoy the warm pools if you prefer. There is something to suit everyone at the Arena Skövde Water Park, which have been nominated as Sweden's best water park by Children's Holiday for several years in a row. There is also a 25-metre swimming pool for training at your own pace.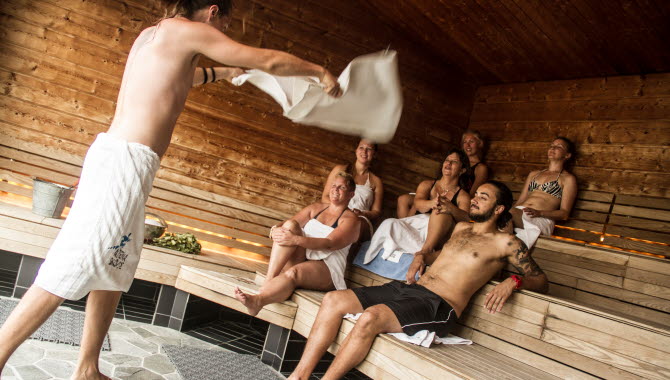 Relaxation for body and soul
In the relaxation area Aqua Vitalis, there is an atmosphere of calm. This is a real oasis in the centre of Skövde, where you can take time to unwind, enjoy good food and chat with your friends. There are relaxing activities such as warm pools, a hammam with hot stones, a sauna, a steam room, an outdoor pool and invigorating showers.
Sports Bar and interactive bowling
On the ground floor at Arena Skövde you will find the restaurant Nöjesarenan - a modern sports bar with good food, games and entertainment for everyone. The restaurant and sports bar take 200 guests and the interactive bowling alleys are very popular so you'd better book your lane in advance.
Photographer: Nöjesarenan Skövde
Situated in the centre of Skövde
Arena Skövde is right in the centre of town with ten minutes' walk to the travel centre and several of the city's hotels, making it an ideal place for different events such as sports competitions, exhibitions, conferences, concerts, AGMs and so on. The town of Skövde is in the heart of Västergötland, easily accessible by train and other means.
InfoPoint
Would you like more ideas about what you can find nearby? Arena Skövde is a certified InfoPoint where you can pick up brochures and maps and knowledgeable staff can help with your questions about the area.