Carlstens Fortress

Marstrand
Feel the history of the fortress, as a defence fortification and a prison
At the highest point of Marstrandsön on the west coast of Sweden, Carlstens Fortress sits on its pinnacle. The great guardian has protected the little wooden town below for over 300 years. These days the fortress is a captivating place to visit. You can sense the fascinating past of the fortress as a line of defence and a jail for notorious prisoners, but you can also stay overnight here, go to concerts and take part in other events.
Walk around in Lasse-Maja's footsteps
Welcome on a time trip you won't forget. A guided tour of Carlstens Fortress is an exciting journey that takes you back to days gone by, with amazing stories of prisoners and the hard life here. Take a guided tour and see the Walk of Sighs, Gallows Hill, Lasse-Maja's Kitchen and the Fortress Church. You can walk around the fortress on your own if you prefer. At different times of the year you can also see the Fortress Show with marching Karolinian soldiers and thundering black-powder cannons, a ghost tour and a courtyard gala.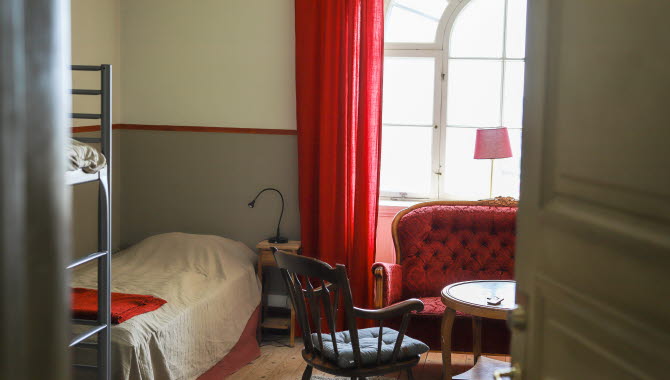 Stay overnight at the fortress
The strong walls of Carlstens Fortress circle around the Donjon and the Commandant building. You stay overnight in the Soldathotellet's charming rooms, just like thousands of soldiers did in the past.
Dinners and parties
There are several party halls at the fortress which are ideal for different festivities. When the gun smoke has blown away from the drawbridge, the welcome drink is finished and the officer has followed you to the banquet hall, you can finally enjoy what is served by the fortress restaurant.
Photographer: Göran Assner