Bryggvingen Restaurant & Fish store

Lyr, Orust
A restaurant with a taste of salt in the air and unbeatable sea views
Bryggvingen Restaurant & Fish store is located on the island of Lyr and is definitely the destination of choice if what you are looking for is the freshest of fish and seasonal seafood. The panoramic sea view from the terrace across the Orust archipelago guarantees a true west coast experience.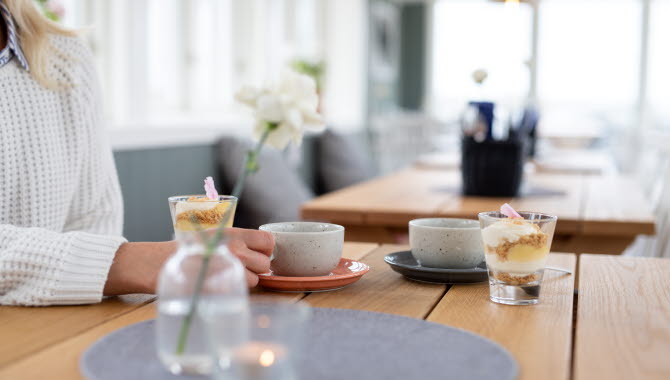 Photographer: Charlotte Berg
Restaurant with a profusion of Bohuslän flavours
Bryggvingen is located on the small island of Lyr in the southwest corner of Orust, right on the shore and with magnificent views. You can make your way there on the ferry, Annie, or using your own boat, which you can moor at the restaurant's own jetty.
Photographer: Anders Jonsson
Bryggvingen Restaurant & Fish store serves fresh seasonal fish and seafood, landed at the jetty by local fisherman and taken directly into the kitchen. It doesn't come any fresher! Vegetarian and meat options are available for those who wish.
Fish store and shop
The fish shop offers fresh fish and seafood, as well as smoked mackerel and salmon. If you're looking for something special, ask for the mussels that have been harvested just off the coast. Here you also find homebaked bread, dairy products, fresh fruit and vegetables.
Fall asleep to the sound of the sea
If you would like to stay over, Bryggvingen has several choices for you. The guest house has a nice kitchen and a beautiful terrace, and there is also a small cottage. Here you also find a simple hostel accommodation with a well-equipped kitchen and bathroom, which is shared with the other guests.
Photographer: Charlotte Berg