Kärrstegens Gård

Ljungskile/Uddevalla
Farm café, design shop and countryside accommodation
Kärrstegens Gård in Ljungskile will appeal to those in need of coffee and cakes or lunch, as well as interior decoration fans. This is a real west coast gem that offers its guests a wonderful selection of delicacies, interior decoration, flowers, great coffee and cakes and comfortable accommodation.
Delicious coffee and cakes, lunches and great atmosphere for parties
At Kärrstegens Gård in Ljungskile you will find a fascinating mix of old and new that is a source of inspiration for both body and soul. It is only 20 minutes south of Uddevalla by car, or 50 minutes north of Gothenburg. Take a break in the cosy farm café and order a cappuccino, latte, espresso or other drink of your choice. To go with it there are tasty sandwiches, delicious pastries, cakes, home-baked delicacies and a café menu. Book the restaurant for a business event or a hen party, or arrange a long table for a big family get-together. Browse at the mouth-watering delicatessen counter or try Kärrstegen's catering for an evening in with friends.
Self-catering apartments and an exciting design shop
The rooms have the atmosphere of a boutique and great views of the garden. All rooms have a private bathroom and shower, sitting area, wardrobe, kettle and free WiFi. Continental breakfast is offered and there is a bar with full serving rights.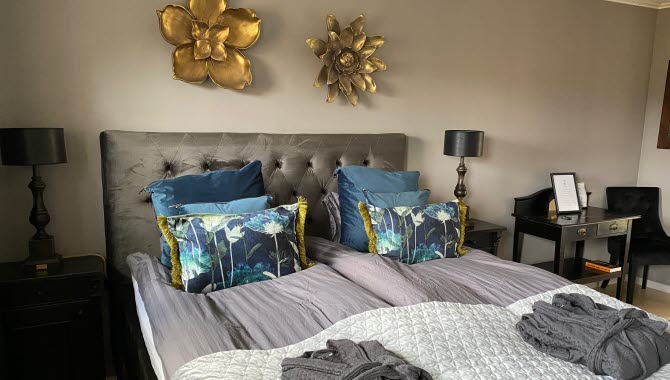 Photographer: Carina Gran
The shop sells beautiful items, home-designed goods and fashion products by selected brands, including Laura Ashley, Kockums Jernverk, Ajlaik and Capri Collection. The flower shop offers cut flowers, garden plants, bouquets and arrangements for weddings, parties and garland-making.
Being close to the long-distance path Bohusleden, the area is popular for walking and cycling. More information HERE!