Upplevelsebolaget

Uddevalla
Experiences and adventures in Bohuslän
Go on a kayak tour out to Väderöarna, try rock-climbing, go mountain biking or hiking. Upplevelsebolaget arranges sustainable and environmentally friendly adventures and experiences in Bohuslän that make people, animals and the ecosphere feel good. Join guided tours, courses at different levels or visit UpplevelseLadan (the "experience barn").
Sea and forest adventures
Upplevelsebolaget has guided enthusiastic kayak paddlers among the Bohuslän islands for more that 20 years, so they know where all the gems are hidden. Just come along! The very best climbing in Sweden is also found in Bohuslän. And while you're at it, take the chance to go mountain biking. Blasting around on a track full of pine needles with forest all around you is a great combination of action and nature.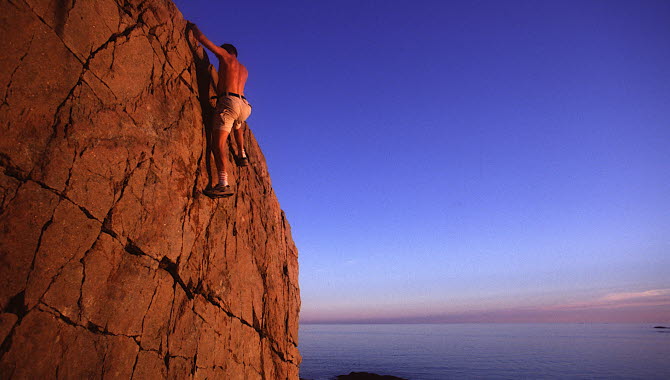 Photographer: Joakim Hermanson
Challenge yourself
You can also visit UpplevelseLada, a barn full of fun. Challenge yourself and your friends with adventures, or fine-tune your group or company with the help of problem-solving. The key is to do it all with a smile. Inside the barn you'll find a climbing wall, a high ropes course, a kingswing, tower building and a zipline.
Sustainable experiences
Quality in every detail, real safety culture, hunger for discovery and wilderness luxury. These were the reasons for awarding Upplevelsebolaget with the Grand Travel Awards' Ecotourism Prize as This Year's Ecotourism Organiser in Sweden. Upplevelsebolaget is certified by Nature's Best Sweden, the quality assurance organisation for ecotourism in Sweden, and a part of Swedish Welcome.