Tullhuset restaurant

Hönö Klåva
Fish and shellfish restaurant by the sea
Right at the tip of Hönö Klåva in the Gothenburg archipelago is Tullhuset, a pleasant fish and shellfish restaurant with a fabulous view of the sea and Vinga Lighthouse.
Food from the sea, by the sea
At Tullhuset you can enjoy well-prepared fish and shellfish dishes with the sea at your elbow. The restaurant serves everything from a hearty fish soup and fresh shellfish to more classical fish dishes. Tulllhuset has one of the best locations on the entire West Coast, and is popular with locals as well as visitors. Every month a new menu is presented on much-appreciated tasting evenings, and every now and then the restaurant features guest chefs or specialist lecturers.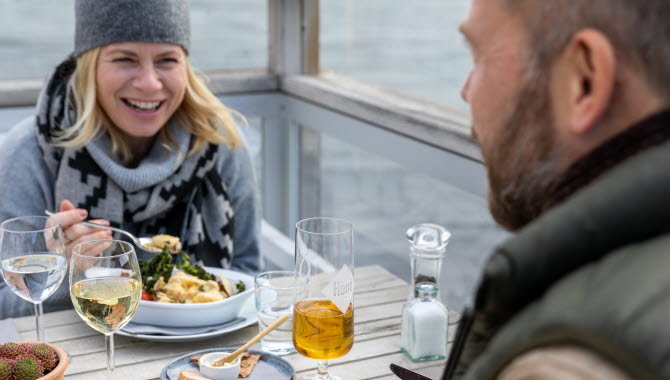 Open all year round
Each season offers a different canvas through the windows of Tullhuset. Warm summer days with calm seas are replaced by stormy autumn evenings and crystal-clear winter days. Summer is naturally the high season, with long, cosy evenings on the terrace and occasional musical entertainment by talented musicians.
Photographer: Happy Visuals
Tullhuset is open for lunch on weekdays and has an à la carte menu in the evenings and on weekends. The restaurant is open every day of the year, but opening times may vary depending on the season. When Advent arrives in mid-November, Tullhuset is clad from top to bottom with fir twigs and Christmas decorations, and throughout Advent the restaurant serves its well-known fish and shellfish buffet.