Cranes by Lake Hornborgasjön
Naturally, the cranes are closely associated with spring in our region, as this is when they arrive in their thousands to the area around the Trandansen Information Centre, where they remain from mid-March until the end of April. The cranes spend the summer months in the secluded forests and swamps of northern Sweden, where they nest and breed. Once the babies are able to fly, the birds head south again, and by mid-August or September they are back at Lake Hornborgasjön.
Cranes in the spring
The first cranes usually arrive at Lake Hornborgasjön as early as mid-March, although the greatest numbers are usually see in early April. The birds are counted each evening, when they fly to their sleeping places. The record is from Tuesday the 3rd April 2012, when no less than 26,500 cranes gathered in the area below the Trandansen Information Centre, at the southern tip of the lake. This is a great place for crane watching. The Information Centre is located in Bjurum, right next to Road 184 between Falköping and Skara. The Centre has car parks, viewing spots, a visitor facility with a crane exhibition, a tourist office, gift shop and a simple coffee shop.
More information about Trandansen can be found here!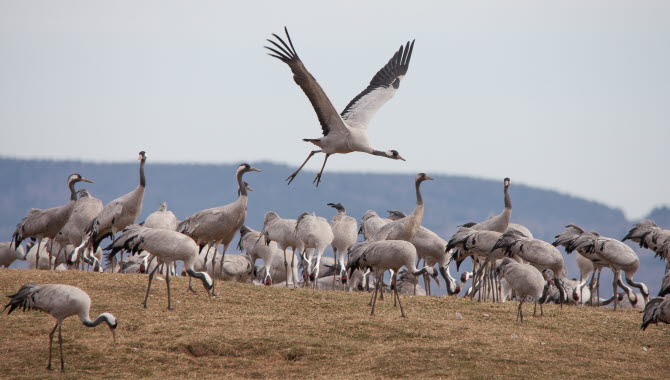 Cranes in the autumn
The autumn cranes behave very differently from the ones that arrive in the spring. They are more withdrawn and less patient, and tend to stay at a significant distance from humans. One reason may be parenthood, which requires them to be more cautious and suspicious, as many of the pairs have an almost adult baby in tow.

Another difference between the spring and autumn birds is where they are found. In the spring, all the birds gather near Trandansen Information Centre, at the southern end of the lake; in the autumn they prefer to rest on the fields north of the lake or the fertile agricultural land to the west.
Good places from which to watch the cranes in the autumn are the bird tower at Fäholmen and the embankment at Utloppet. Visit at sunset, when large flocks of cranes fly in to spend the night in the shallow waters at this end of Lake Hornborgasjön.
To find out the approximate number of cranes in the area, visit the statistic page of the webpage of the County Administrative Board which counts the number of cranes throughout the season.
For further information about the cranes and birdlife by Lake Hornborgasjön, see www.hornborga.com