Lake Hornborga is a bird lake all year round. Spring (March-April) is of course the time of the cranes, but it is also a chance to see thousands of whoopers, coots, ducks and waders.
It's possible to rent a hide at Trandansen, in the southern part of the lake, and watch the cranes from there. The hides are available for booking 2022. Please send us an email!


Information about the hides
You have to be set in the hide at 4:30 am and are asked not to leave until the supervisor indicates that it's permitted to do so (approx. at 9 pm). It is only allowed to stay one person in each hide. Visitors must make their own arrangements for footstools, sleeping bags and similar personal equipment. Keep in mind that it can get very cold in the hide, since it is not insulated. You must be over 18 to sit in hiding.

Price 950 SEK / day.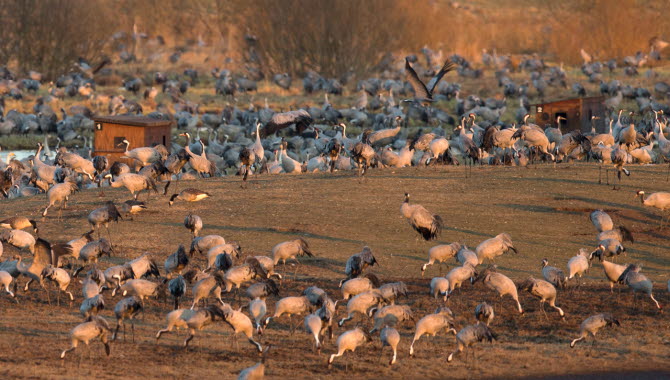 Photographer: Carsten Linde
Booking
The booking has closed for the season. Welcome to start booking in the spring of 2023 starting 3 October.
For more information and booking, please contact the Tourism development Falköping:
turismutveckling@falkoping.se +46 (0) 515- 88 50 00
Statistics- number of cranes day by day, the website of the Västra Götaland County Administrative Board. Statistics