The aqueduct in Håverud

Mellerud
Unique intersection of road, rail and waterway
Hundreds of thousands of visitors every year come to the Dalsland Canal to see this spectacular intersection of road, rail and waterway. The aqueduct in Håverud is one of the most popular attractions in Dalsland and is a piece of history that is best seen on site.
Unique intersection of infrastructure
There are plenty of aqueducts in the world, but most of them are constructed with Roman stone arches or with cast iron troughs as superstructures. The aqueduct in Håverud is made of riveted sheets of steel and is one of a kind. What makes the site even more impressive is the fact that both a rail and a road bridge pass over the aqueduct.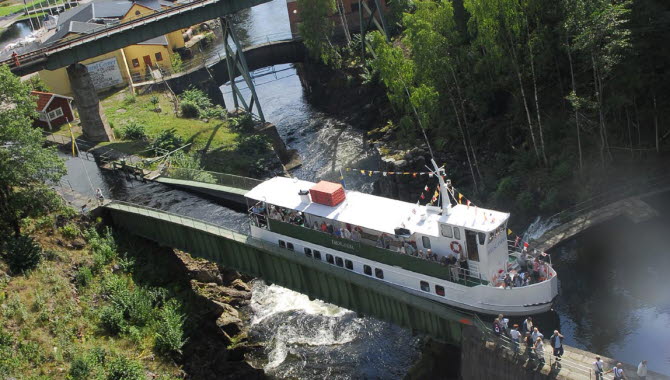 Photographer: Dalsland Turist
A daring idea that came true
During the nineteenth century, when the plan to join the Dalsland lakes with a canal was made, the passage in Håverud was considered too difficult to pass since the rapids are so strong and the valley walls are so steep. Early drawings indicated that reloading would be required, then some kilometres of transport on a horse-powered railway, to get past the difficult section.
Fortunately, there was a visionary with another solution. The well-reputed canal and railway constructor Nils Ericson was brought in to examine the project. His solution was to build an aqueduct in Håverud, on which boats would be transported over the rapids in a long steel trough. The idea appeared more than a little daring to many, and would probably not have been completed had there been anybody else behind it, but Nils Ericson was an authority. He had gained a sound reputation in the construction industry, and had also been an apprentice to Baltzar von Platen himself. With this background he was able to complete the project, resulting in the 33.5 metre-long steel trough, joined by no less than 33,000 rivets. The aqueduct, as well as the rest of the Dalsland Canal, was officially opened by King Carl XV in 1868. Another impressive fact: to date, no rivets have needed to be replaced.
Learn more at the Canal Museum
For those who travel along the Dalsland Canal, there are also four locks at Håverud, as well as a friendly youth hostel and a Canal Museum which is well worth a visit. The museum has an exhibition that is both educational and imaginative, describing the history of the canal in fascinating, colourful ways.
The tourist office, Dalsland Center, is just next to the aqueduct and can tell you more about attractions in Dalsland.