Ångaren Bohuslän

Gothenburg
Steamboat trips in the archipelago off Gothenburg and southern Bohuslän
Go on a wonderful tour with Ångaren BOHUSLÄN, a steamboat steeped in culture and history. Visit the islands off Gothenburg or tour the Bohuslän archipelago, swim in its salty waters, enjoy its scenic footpaths, good food and nice accommodation.
Scheduled and chartered boat trips with an energetic centenarian
Ångaren BOHUSLÄN is one of the oldest and most beautiful ships on the west coast; built in 1914 and now a listed vessel classified as a traditional ship. For over forty years she sailed between Gothenburg and Kungshamn 6 days a week, stopping at many places en route such as Smögen, Lysekil and Marstrand. 
These days Ångaren BOHUSLÄN sails on scheduled tours and charter tours every summer - check website for Tickets & Timetabels. You can rent the steamboat for different purposes, such as company events or family gatherings, between May and mid-September. A tour around the archipelago and back takes about three hours and a return trip to Marstrand just over five hours, plus any time you wish to spend ashore. You can visit the engine room below or go to the upper deck and speak with the captain. The maximum number of passengers is 280, with seats at tables for about 90. All tours to and from Gothenburg start and end at Stenpiren, a quay in the city.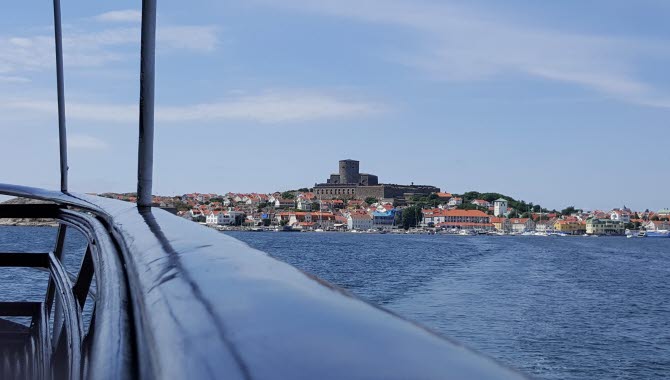 Go island hopping in Bohuslän
There is no better way to experience the water world of the archipelago with all its coves and small picturesque fishing villages! Start your journey with Ångaren BOHUSLÄN and then continue along the coast with the scheduled ferry services. Go swimming at Brännö, walking in Marstrand or enjoy a romantic dinner in Fiskebäckskil, taking lovely boat trips between the different gems of the archipelago. Take your bicycle, your family, a friend or your date with you!
Timetables and tips on various travel routes can be found at Island hopping.