Musselbaren Lyckorna

Ljungskile
Gourmet food centred on the humble mussel
The Mussel Bar offers you a real Bohuslän gourmet experience. Enjoy fresh mussels with classic side dishes in a beautiful down-to-earth, traditional setting. If you're looking for something out of the ordinary, go on a mussel expedition and try your hand at harvesting fresh mussels. Next to the restaurant you can buy locally produced foods including mussels and side dishes.
Mussels in the centre of the stage
At the Mussel Bar Lyckorna in Ljungskile, mussels are given pride of place in all our main dishes. As far as possible, all the meals are based on local and seasonal ingredients. Both the bread and aioli are home-made, of course. The mussels come from Scanfjord's farms and are lovingly prepared using the bar's own recipe. You can always try harvesting them yourself!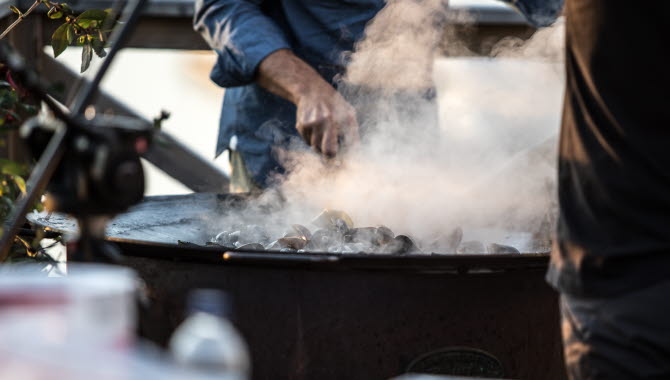 Photographer: Robert Dahlberg
A Taste of West Sweden
The Mussel Bar is certified by A Taste of West Sweden. This certification is reserved for restaurants, producers and farm shops which offer sustainable and genuine west Swedish products and fine dining, all based on local seasonal produce.
Mussel expedition at sea
During the season from April to October there are fixed departure times for the popular mussel expeditions from Lyckorna in Ljungskile. Sail out to the huge mussel farms in the fjord and harvest fresh mussels, which you can cook with the best instructors and enjoy together in Klocktornet. The mussel expeditions can also be ordered to suit your wishes.