Villa Weidling B&B

Fengersfors
Personal Bed and Breakfast in the heart of Dalsland
Villa Weidling Bed & Breakfast is beautifully situated in Fröskogs kyrkby, 20 kilometres west of Åmål, in the heart of Dalsland county. Enjoy the lovely countryside in this area and the exciting range of works at the artists' centre, Note Quite.
Rooms with a charming mix of old and new
The rooms at Villa Weidling are decorated with old and new things, which creates a personal touch. There are four different options for accommodation: single and double rooms, a studio and a cottage. The rooms have a bathroom, toilet, washbasin and bath/shower next to them. The cottage has two rooms, a double bed/two single beds, a private toilet, a kitchenette, dining area and a sleeper chair.
Photographer: Malin Roberson Harén

Photographer: Malin Roberson Harén

Photographer: Charlotte Weidling
The locally produced breakfast includes freshly-baked bread from Brukets Godaste bakery and honey from Myrängen bee-hives. As far as possible all the other ingredients are local or ecological. The accommodation has a shared patio with BBQ facilities.
Artists' centre in the middle of the forest
Not Quite is a centre and network for artists, craftsmen and designers that lies only 2 kilometres from Fengersfors. There is a vibrant creativity that goes on here in the Dalsland forest, with studios, workshops, art galleries, a gallery, shop and café. Do try to visit during one of the exhibitions, events, courses and workshops at Not Quite when you stay here.
Lots of nature experiences near you
Lace up your walking boots and explore the countryside around you - there are paths of all lengths and difficulties. Walk along the shores of lake Vänern or climb Dalsland's highest hill. If you want to join up with the Pilgrim's Path, it's only 6 kilometres from Villa Weidling.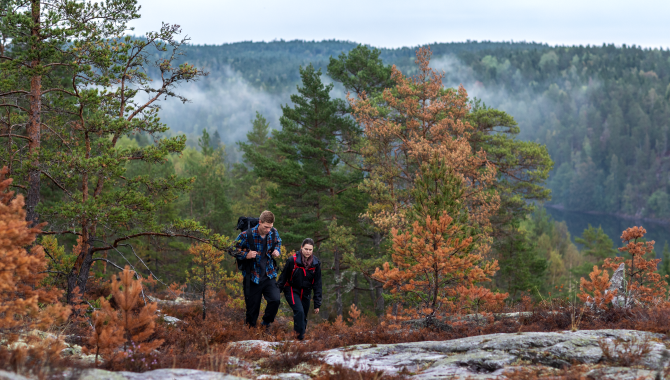 Photographer: HENRIK TRYGG
Canoeing in Dalsland is much more than a known concept; it has to be experienced when you're here! The same applies to the diversity of fishing in the county, or enjoying the countryside on a bicycle.