MARIA ABOUT WINTER BATHING IN HJO
A refreshing dip in Lake Vättern – a real energy boost!

That our bodies benefit from winter bathing, is a fact probably well known to many of us by now. In recent years we have been bombarded with people winterbathing all over social media. Maria Grydbeck is one of them. She started winter bathing when she moved to Hjo a couple of years ago. It was the beautiful lake Vättern that was the attraction for her and that made her take that very first cold dip. Hence, on a spring day in April, with only 4 degrees in the water, she decided to dive in. And ever since, she has never stopped, just like so many others who now bathe all year round. A trend that is here to stay.
So what exactly is so great about throwing yourself into icy water you might ask yourself? Maria herself describes it as a form of well-being, "like winning the lottery". But it's not just a matter of feeling happy and releasing endorphines. Some research shows that really cold baths have significantly reduced tension, fatigue, poor memory and a bad mood, and in addition, research participants have reported relieved pain associated with rheumatism, fibromyalgia and asthma. Maria also thinks that winter swimming has an important psychological aspect, "it is a form of mental training". "But, then again, how can you resist taking a dip. I mean, lake Vättern is just so beautiful, you just want to go in," she adds.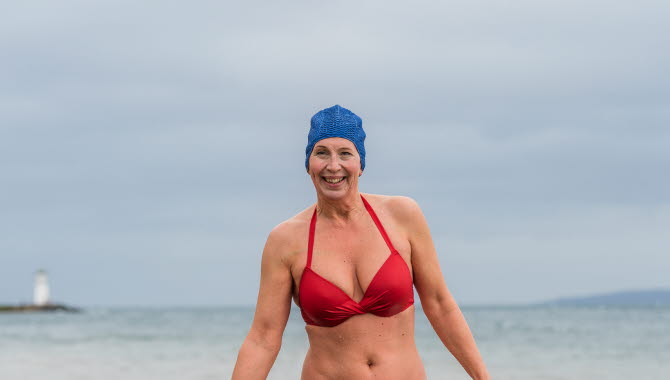 Photographer: Jesper Anhede
Yes, Lake Vättern has its charm all seasons and offers different expressions every day. "The lake can be completely ice blue as in Antarctica, turquoise like the Mediterranean or completely blank and moonlit under a starry sky …… and you can see the lake almost everywhere you are located in the small wooden town of Hjo". Europe's fifth largest lake is thus both beautiful and bathable all year round. Maria herself bathes up to several times a week, during the summer as well as the winter. But, while many bathing and sauna associations in the big cities have to deal with long waiting lists, lake Vättern is always available, and completely free to dive into. So to summarize, and as Maria herself puts it, "lake Vättern wins"!
Good place to take a dip
You can take a winter dip on Guldkroksbadet's sandy beach. Bathing cabins can be rented via Hjo Tourist Information all year round.
There are also bathing spots along the Strandpromenaden, south of Stora Torget.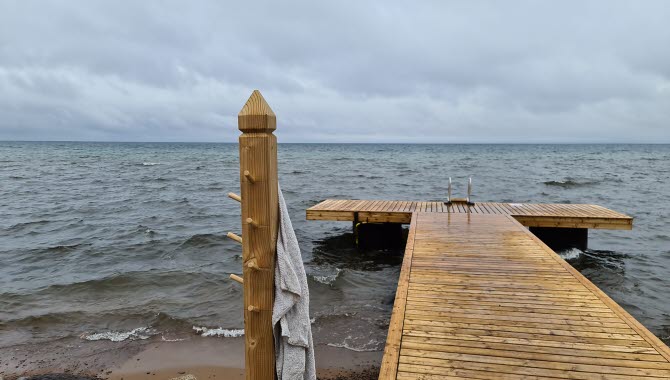 Practical things when you winter bathe
Put a towel and your clothes close and handy for when you get up from your dip – preferably in the order you want to put them on.
Take it easy when going in and out of the water.
The body's reaction is to inhale heavily when exposed to cold. So, do not forget to exhale!
Keep track of time in the water. Do not stay in the water for too long even if it gets nice after a while!