Kayak tour Läckö - Spiken 3,5km

Kållandsö
Serene ice cream tour to Spiken
On a sunny day what beats a visit to the idyllic village of Spikens Fiskehamn? To get there by water! During the summer, at Läckö Castle on the tip of Kållandsö, it is possible to rent kayaks and canoes from Naven Outdoor Experience. If you bring your own canoe or kayak there are plenty of places for setting them on the water.
Starting at Läckö Slott
The tour starts at Läckö Castle and goes out around Roparudden. The name Roparudden translates as Shouting Point and comes from the fact that it was here that you stood and shouted or signaled over to Stora Eken to call the ferryman when you wanted to cross the channel. Roparudden is the outermost tip towards Stora Eken and was inhabited from the 16th century until the 1960s.
After Roparudden, you paddle past Stora Eken, The Large Oak, the largest island in the Eken archipelago. The island is named after the large oaks that have grown and still grow on the north side of the island. The island has a rich flora and fauna, with seabirds, hares, elk and deer. On the west side of the island there is a jetty for canoeing and kayaking if you want to make a stop.
READ MORE: More kayaking adventures in West Sweden
Order a 'Spiken Special'
The tour continues into the village of Spikens Fiskehamn. Land at the jetty and buy a Spiken Special. The Spiken Special is an old classic that has been around for decades and consists of ice cream, soft ice cream, cream, sprinkles and sauce. Of course, there are other, slightly lighter options to choose from.
Stroll around the quaint old harbour and visit the local artisans or buy some freshly smoked fish. For families with children, or just anyone looking for entertainment, there is a mini golf course to tackle before you start paddling back to the castle.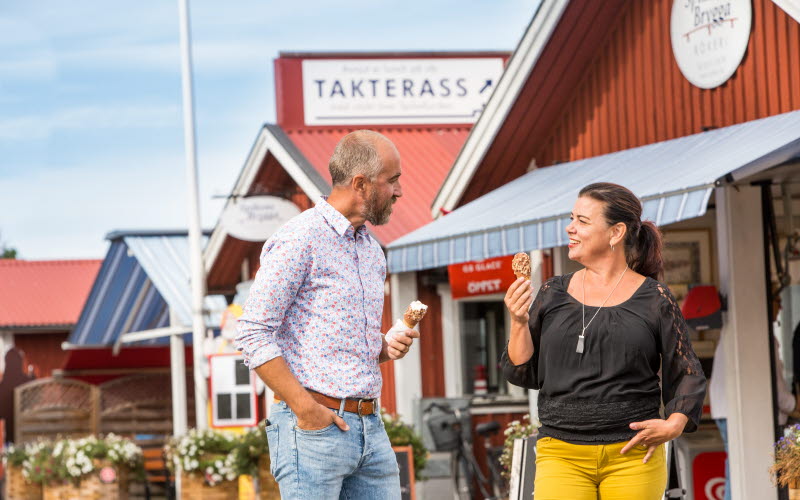 Tips for accommodation
Route information
Length: 
About 3.5 km one way
Approximate time:
45 minutes
Conditions: 
Lake Vänern inshore water
Take note:
Remember to wear a life vest and take drinking water and snacks. Also take your mobile phone and extra clothes in a waterproof bag or container. Check the weather forecast so you can be prepared. 
Safety: 
Choose bright colours for clothes and kayak so you can be more easily seen on the lake
Use common sense

Check the current weather forecast with your rental company before setting off. The weather can change very quickly on the lake

If you have never kayaked before it is a good idea to start with a short course
Suitable for:
Beginners
Start and finish: 
Läckö Slott on Kållandsö outside Lidköping
Location:
If starting from Läckö Slott it is well signposted from Lidköping. There is plenty of parking at Läckö Slott.
By public transport with Västtrafik take the 132 from Lidköping to Spiken and during the summer you can get off at Läckö Slott. Check details for bus 132 on https://www.vasttrafik.se/en/ or download the Västtrafik To Go app.
If starting from Naven turn left off Kållandsövägen and follow the signs for Läckö Golf. Then follow the road until you pick up the signs for Naven.
With Local Services via Västtrafik, You can travel from any address to any of the municipality's local service stops or vice versa.  However the address must be in the green area on the map of local services. You call and book your trip at least 1 hour before the desired departure based on the given time intervals (see times). Travelling with Local Services costs the same as a regular single ticket and you can pay both in cash and by bank card. For more information www.vasttrafik.se