Skaraborg is located right between the two largest lakes in the country; lake Vänern and lake Vättern. In the area you will also find a lot of charming forest lakes that also are suitable for a swim. Here are some of our favourites - dive in with us!
Flämsjön, Skara
An appreciated gem with a popular sandy beach.  The swimming spot has big lawns, a small jetty and a limited area in the water for our small swimmers.
Guldkroksbadet, Hjo
Guldkroksbadet in the middle of Hjo harbour is a swimming spot suitable for the whole family. Go swimming in three heated outdoor pools or take a swim in Lake Vättern. Free entrance.
Blombergsbad, Kinnekulle
At Blombergs swimming spot you can get into the water either from the cliffs or from the beach. You will also find lawns where you can spread out your blanket. The bay is shallow and sheltered, suitable for the whole family.
Viken, Töreboda
At Lake Viken outisde Töreboda you will find several nice swimming spots. At Åsenviken in Halna there is both a lawn and a beach.
Örlenbadet, Tibro
An oasis in the summer not far from Tibro. With its sandy beach, the small jetty, the volley-ball field and the kiosk it is a perfect place for warm summer days.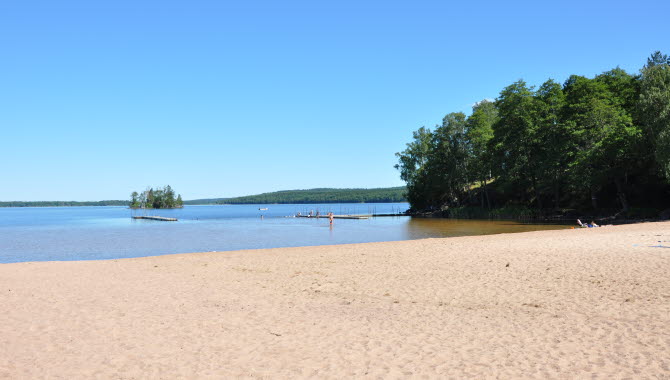 Djäknesundet, Karlsborg 
Jump straight into the unusually bright blue water from the cliffs at Djäknesundet. There is also a lovely sandy beach at the sight.
Otterbadets bad & camping, Gullspång
At the south end of Lake Skagern, at Otterberget, you will find a fantastic shallow sandy beach with a playground.
Ekudden, Mariestad
At Ekudden's beach you can go swimming in Lake Vänern. A varying swimming spot with both a beach, cliffs and a jetty. Family friendly lawns and a playground available at the sight.
Svalnäs, Lidköping 
This wonderful long sandy beach, just outside of Lidköping, is often called "the Riviera of Lake Vänern". Visitors from the whole county come here to enjoy the sun.
Askevik, Sjötorp 
Large sandy beach for the whole family with endless views over the inland sea Vänern. Askevik is located north of Sjötorp and Göta Canal.
Lilla havssjön, Hökensås 
A swimming lake in the nature reserve Hökensås. Child friendly swimming spot with a small jetty and a jumping tower. Sunbathe on the lawn or the beach.
Boulognersjön, Skövde 
An artificial lake with water from Lake Vättern. Surrounded by the shady park Boulognerskogen you will soon forget that you actually are in the heart of Skövde.