Alcatraz Aktivitetscenter

Gustavsfors/Bengtsfors
Activity centre with accommodation by the Dalsland Canal
Gustavsfors is the resident of Alcatraz, an activity center located on a small island between the lakes Lelång and Västra Silen. Bert Knuivers and his family run a canoe rental, restaurant and hostel. You can furthermore put up tents or stay there with your mobile home.
Experience magnificent wilderness and waterways
The Alcatraz Experience Centre with such a captivating name is located in Gustavsfors, in a historic factory on an island in the middle of the Dalsland Canal. Start the day with a morning swim or a workout on the climbing wall before breakfast, then explore the Dalsland Canal in a rented canoe, or your own if you have one.
Dalsland has one of Europe's finest systems of lakes and rivers for canoeing and sport fishing. The wild forest areas, full of berries and mushrooms, have great paths and trails for hiking, horse riding and mountain biking. Go on a tour in a canal boat, rent a railway trolley, a horse or a sailing boat - there are so many possibilities. The experienced staff at Alcatraz can provide you with maps, tips and equipment as well as how to escape!
Accommodation close to the woods, with BBQ facilities
The hostel has 9 rooms with a total of 30 beds, divided into 2, 4 and 6-bed rooms and two family rooms. It has a shared kitchen, with showers and toilets in the hallway. There is an apartment for rent if you prefer more private accommodation. The campsite is small-scale without marked out pitches, but you'll find a space whether you arrive with a tent, caravan or motorhome. There are also different party games and a conference room.
Alcatraz is a dog-friendly accommodation - see the website for more info.
The Alcatraz restaurant has a good choice of dishes and is well-known for its home-baked pizzas. In the summer you can choose between eating indoors or outside on the terrace. If you've had luck fishing you can grill your catch on a camp fire and tell your tall stories in the pub.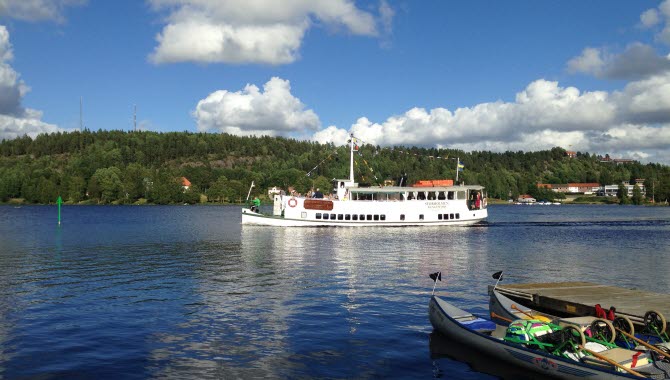 Photographer: Christiane Dietz