Moster Elins Glass

Hjo
Summery ice cream paradise in Hjo harbour
The old harbour watch hut by the beautiful marina at Hjo, on lake Vättern, now houses Moster Elins ice cream café. Be amazed by all the creative, playful ice creams with colourful sprinkles, shiny umbrellas and home-made chocolate sauce.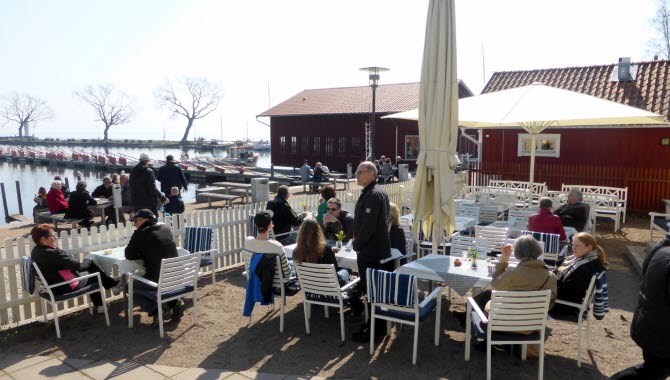 Lots of choice
Hjo is an idyllic village in Västergötland, and once upon a time the harbour watch, Klas, lived in the little cottage here together with his love, Moster Elin. These days – in fact since 2007 – you are welcomed instead by a happy gang of ice cream girls. Take a well-earned break at this summery ice cream café with a wide range of ice creams, smoothies, milkshakes and grilled sandwiches. There is a wonderful aroma of waffles and pancakes from the café kitchen, too.
Ice cream for connoisseurs
Moster Elin was a real connoisseur, so the creative menu at the café is full of high-quality organic products. You simply must try Moster Elin's Nobel coffee, the same variety that has been served at the Nobel Award Ceremony for several years in a row. Enjoy your glass dessert on Moster Elin's cosy terrace or take it with you on a walk in this gem of a summer village with its old wooden houses and genuine cobbled streets.
Get brochures about Hjo
Would you like more ideas about what you can find nearby? At Moster Elin you will find brochures about the town Hjo. Just ask the staff and they will show you.