TanumStrand

Grebbestad
Hotel and spa by the sea
You'll find TanumStrand in Fjällbacka archipelago, one of the most beautiful places in the whole of Sweden. TanumStrand really does have everything you need, whether you are here to work, train, relax, sweat in the sauna, cool off in the pool, go to the spa or indulge your taste buds. A place among the rocks and cobs on the edge of Skagerrak.
Adventure or chill?
The beach-front location means there is a wide range of activities on offer. How about cooking crayfish on the jetty, tasting herring in the boathouse or an outdoor workout on the rocks? If you want to unwind and chill then go to the hotel's Nordic spa, sweat in the sauna and then take the plunge - into the sea off the jetty!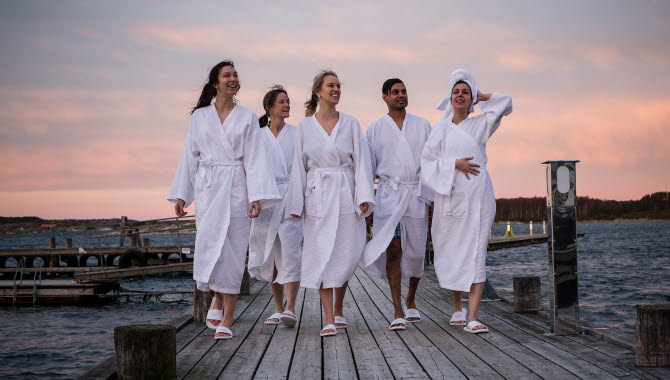 Photographer: Fotograf Maja Kristin Nylander
Good food for body and soul
The Latitude 58° restaurant promises a first-class dining experience with hand-picked oysters from the renowned Grebbestad oyster banks, crayfish, crabs, clams, shrimps and freshly foraged crispy seaweed. The restaurant chefs have succeeded in composing a menu that suits the most demanding gourmets as well as hungry families.
Accommodation
Always close to the sea at TanumStrand. Sleep like a baby in a hotel room with wonderful views of the sea. All the cottages for renting have a private veranda and are close to the sea, the restaurant and the water park. If you are lucky enough to come by sea, stay in the guest harbour next to restaurants, activities and the spa facilities.
TanumStrand is a dog-friendly accommodation - see the website for more info.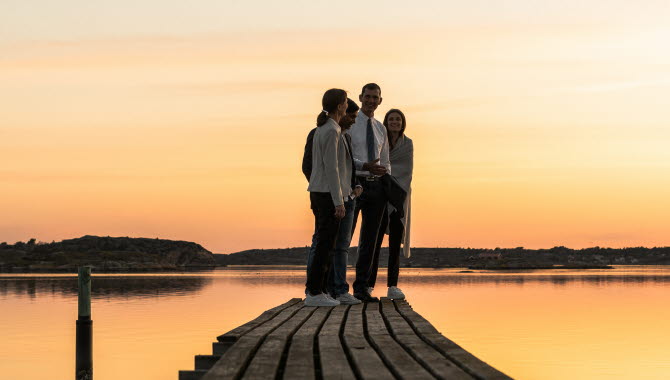 Photographer: Fotograf Eric Bock
Meet at TanumStrand
TanumStrand is one of the largest conference hotels in Bohuslän, boasting a multi-purpose event hall for very large meetings and contrasting small boathouses on the sea shore for smaller groups.
InfoPoint
Would you like more ideas about what you can find nearby? TanumStrand is a certified InfoPoint where you can pick up brochures and maps and knowledgeable staff can help with your questions about the area.