Årås Kvarn & STF Hostel

Ulricehamn
An oasis by the Tidan river
You are welcome to visit Årås Kvarn & STF Vandrarhem, an oasis beautifully situated next to the Tidan in West Sweden. You'll fall fast asleep in the nicely furnished rooms after a day full of adventure. Come here to enjoy the peace and quiet, walk the footpaths, play golf or go skiing.
Picturesque hostel
Årås Kvarn was built around 1930. The two buildings that are now used as a hostel were occupied by the miller and a mechanic when the mill was in operation. The hostel now has eight picturesque rooms, each with a self-catering kitchen and a lounge. Drängstugan next door, the old lodgings for the farmhands, has another four double rooms. There is a BBQ shelter by the river that can be used by guests. Challenge friends and family to a game of boules during the warm summer days on one of the two quality pitches.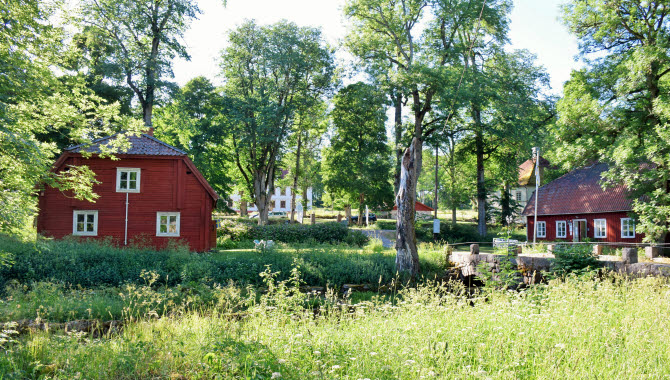 Historic adventures
There is a lot to do around Årås Kvarn, especially for those who have an interest in history. Explore the many ancient monuments and church ruins in the surrounding countryside. Take the opportunity of visiting Ekehagens Forntidsby - it makes a great family excursion.
Nature trails
If you enjoy the great outdoors, a walk along the scenic Wilderness Trail is recommended. It starts and ends at Årås Kvarn. You can also rent a bike and go on a longer bike ride in the area where the award-winning Änglagård films were made. The downhill skiing centre in Knaggebo or Ulricehamn Ski Center will give you a whole bundle of fun in the winter.