M/S Dalslandia

Bengtsfors
An exciting boat trip along The Dalsland canal
Join a tour with M/S Dalslandia on the beautiful Dalsland canal, meandering through the countryside and negotiating exciting locks, all the while served with good food and drinks. The return journey is by rail, where you have the chance to see the beautiful scenery from the train window.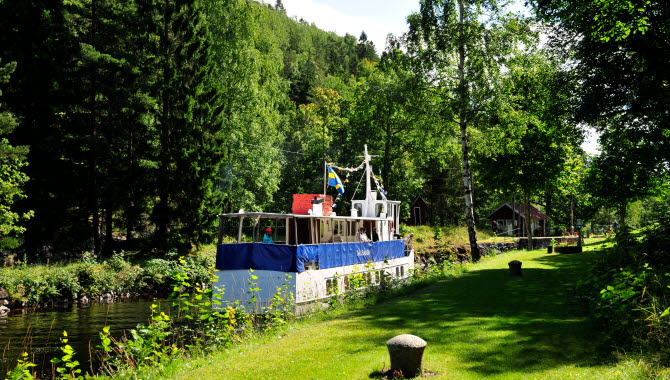 Photographer: Gaby Karlsson Hain, Dalslands Turist AB
Travel 41 metres above the surface of Vänern
M/S Dalslandia sails along The Dalsland canal between Håverud and Bengtsfors. You pass 16 exciting locks on the route, which lift the boat all of 41 metres above the surface of Vänern. You also get to see the aqueduct in Håverud, with its famous combination of road bridge, railway bridge and aqueduct.
Beautiful Dalsland villages and unspoiled countryside
The tour takes you through romantic Dalsland farming villages and manor houses, linked by beautiful lakes and unspoilt countryside with a rich variety of birds and wildlife.