Bisonfarmen i Gate

Hjo
Close contact with bison
On the Mobolet farm just south of Hjo, in the eastern part of West Sweden, you can join a bison safari and get very close to these majestic animals. If you're looking for that close-to-nature experience you are welcome to stay overnight in a tent provided by the farm. The Bison Saloon serves really good food, and there's a farm shop where you can browse among many local products.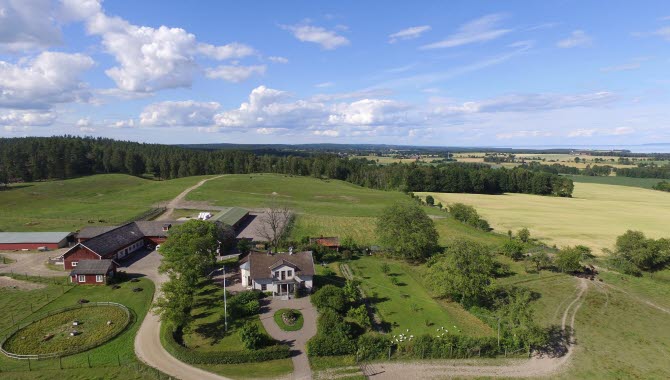 Photographer: Simon Althaus
Exciting experience close to the animals
Come along on a different, exciting adventure at the bison farm. During the bison safari you get really close to these fantastic animals. As well as the bison, there are highland cattle, mini Shetland ponies and small animals on the farm. You travel in a covered wagon pulled by a tractor, with a guide on board. This is a different adventure that is appreciated by adults and children alike.
Feeling more adventurous? Rent a quad bike and experience the Hökensås forests!
Taste bison burgers and bison sandwiches
The café and restaurant called the Bison Saloon are in the nineteenth century stables. Here you can enjoy home-made cakes with coffee, bison sandwiches and light lunches. If you'd like to stay overnight on the farm, there are tents for hire and spaces for motorhomes with beautiful views of lake Vättern.
Farm shop sells handicrafts and bison products
Don't miss the bison farm shop, where you can buy products that have been slaughtered, butchered and processed on the farm. There are also leather products, pelts and goods from nearby farms on sale.
InfoPoint
Would you like more ideas about what you can find nearby? Bisonfarmen is a certified InfoPoint where you can pick up brochures and maps and knowledgeable staff can help with your questions about the area.