Gula Paviljongen

Hjo
Organic ice cream café with its own production
Welcome to Gula Paviljongen - Hjo's own organic ice cream café. The large garden is ideal for families and those who just want to relax with a cup of coffee in the greenery. Try the home-made Wettern ice cream, made from locally produced organic cream, old-fashioned milk and eggs. You won't regret it!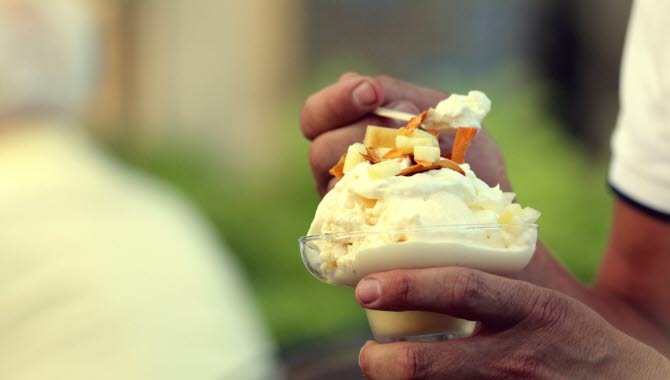 Photographer: Erik Lundgren
People and the planet first
Gula Paviljongen is on the shores of lake Vättern in the eastern part of Västergötland. People and the planet come first here, so that everything served is either ecological, locally produced or fair trade. The care taken in the choice of ingredients is obvious in the taste. Almost everything is cooked, baked and created on site in the cafe. Even the café's own ice cream cones are organic, baked and rolled by hand.
Coffee beans roasted on the other side of the lake
The coffee beans for the café are roasted on the other side of lake Vättern in a small roasting house at the foot of Vistakulle. If you prefer something other than coffee, try some of the soft drinks from Malmö, which are not only organic and free from additives but also contain less sugar. If you prefer still drinks, there are various juices from Norrgårds orchards that are highly recommended.
Get brochures about Hjo
Would you like more ideas about what you can find nearby? At Gula Paviljongen you will find brochures about the town Hjo. Just ask the staff and they will show you.