Daftö Resort

Strömstad
Adventure resort with a pirate theme
At Daftö Resort every day is an adventure regardless of whether you are visiting with family, friends or colleagues. Come with the Daftö Pirates on their exciting antics and be a part of Bohusläns pirate history. Immerse yourself in the Bohuslän landscape along Daftö's own walking trails or by taking a kajak out into the archipelago.
High speed adventures
For the whole summer there are pirate games and adventures every day - weekends during spring and autumn - in the Daftöland theme park. Here you will find attractions that make you smile and give you butterfies in your stomach, but look out – when the pirates get going you need watch out for bombs and fireworks. If you would like to experience another side of Bohuslän there are several boat tours to choose from, for example a day trip out to the Koster Islands marine park.
Photographer: Michael Skarstrom
Live with the sea as your neighbour
At Daftö Resort you can choose to stay any way you like. The camp site is open all year and the accomodation alternatives are plenty. Stay in a hotel, in themed cottages, in mobile homes, caravans and tents - or in your own boat in the guest harbour. Whichever you choose you will have the salty Koster sea as your neighbour and you will be close to restaurants, theme park, minigolf, service house, walking trails, play parks, the pool and the sea with all the possibilities they have to offer. Adventure is waiting around the corner, come and experience it at the west Swedish pearl, Daftö Resort.
Daftö Resort is a dog-friendly accommodation - see the website for more info.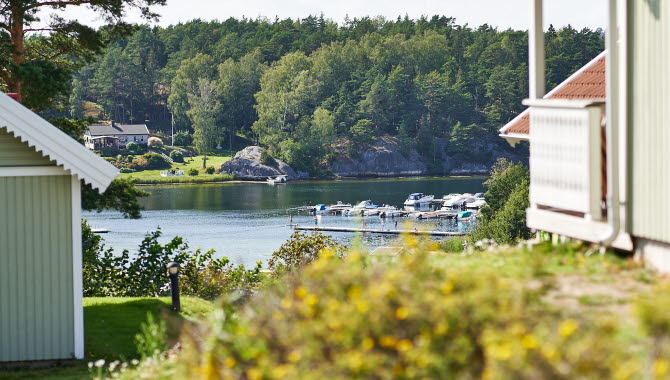 Photographer: Michael Skarstrom
Pirate Hotel on Daftö
When you book a cabin in Daftö Pirate Hotel, you are about to experience a real adventure. Your room is equipped with a double bed, and sofa bed, TV and a private bathroom with shower and toilet. Each one of the guest rooms is designed along its own pirate story. You can piece together the story from the details in the room while the whole family enjoys the rays of the setting sun on your secluded balcony.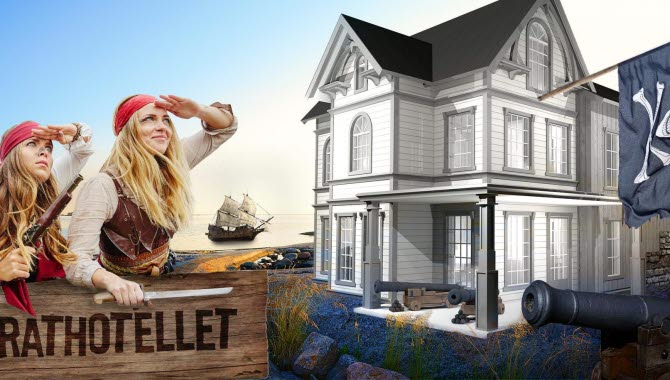 Creative conferences at an amusement park
The possibilities are almost endless when you arrange a conference at Daftö Resort. Hold a one-day meeting in an exclusive cottage or arrange a longer conference for two or more days with overnight stays, exciting outdoor activities, good food, entertainment and the unique Daftöland amusement park.
InfoPoint
Would you like more ideas about what you can find nearby? Daftö Resort is a certified InfoPoint where you can pick up brochures and maps and knowledgeable staff can help with your questions about the area.