Selin Charter

Resö
Boat trips in the Koster Sea
Admire the seals, haul up lobster and mackerel, discover the Kosterhavet national park or simply enjoy pottering about on the sea and rocks. All aboard the M/S Sara! Arranged by Selin Charter, she'll take you to some of the gems in the northern Bohuslän archipelago, including the Alaska cultural garden. You get really close to the Bohuslän experience at sea on M/S Sara.
Marine expeditions
If the sea is your cup of tea, call Selin Charter and go fishing mackerel, pull up lobster pots or watch the seals. Fishing rods and other equipment are all on your boat. Planning a party or conference? Then rent the whole boat and have a whale of a time. Take your friends and colleagues on a seal safari, a seafood cruise, a lunch cruise to the archipelago inns, or to your own favourite swimming place.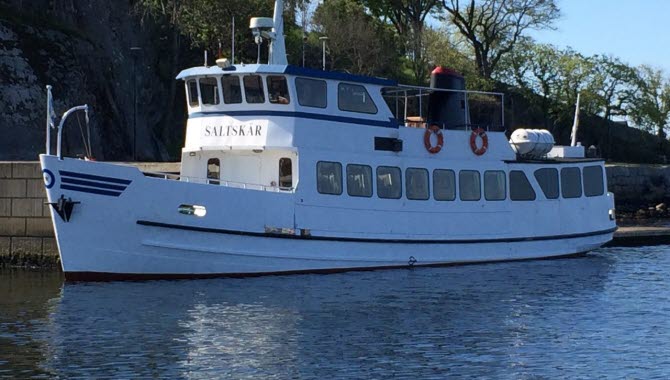 Visit the Alaska cultural garden
Hilma Svedal emigrated to North America at the end of the nineteenth century. After many years as a gold miner in Alaska, she returned home and created a unique garden with terraces, temples and towers on Nord Långö. See the Temple of the Winds and Golden Gate - Hilma's creation is a fascinating place to visit.
Hiking from Trossö to Kalvö and Lindö
Selin Charter also takes group of hikers out to Lindö-Kalvö-Trossö, outside Resö and Havstenssund. There are rare plants to be seen here and a wonderful landscape to be enjoyed, with panoramic sea views, rugged rocks, hills and green meadows, full of flowers.