Günthers Brödstuga

Ulricehamn
World-renowned Bakery & Cafe
Confectionery in the heart of central Ulricehamn, founded by Günther Koerffer in 1984, who has worked at everything from Sprüngli in Switzerland to famous Operakällaren in Stockholm. Patisserie and Bread Cottage
Café
Günters Brödstuga is a well-known café and bakery that has existed in Ulricehamn for many years. Here, the classic pastries are mixed with innovation and, as they say, the madness of the younger generation.
The patisserie is mentioned in the White Guide for Sweden's best restaurants and cafés for its excellent pastries and quality.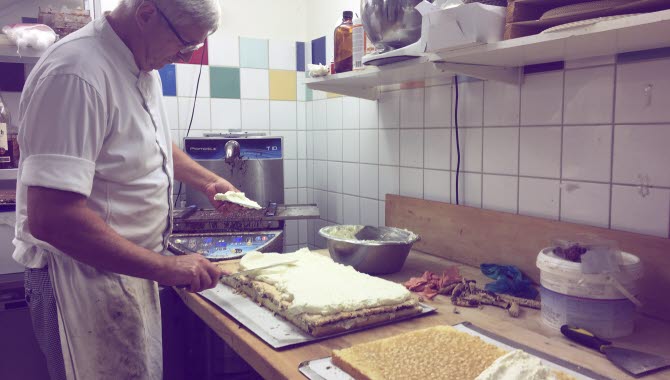 World famous confectioner
Günters was founded by Günther Koerffer who has worked on everything from Sprüngli in Switzerland to Operakällaren in Stockholm. Nowadays, his son Philip is in the bakery and a few years ago he appeared in the TV show Dessertmästarna where he finished among the absolute best.
Günter Koerffer is very well known in the bakery and confectionery world. He was recently elected World President of the Organization of Bakers and Confectioners. For many in Sweden, he is perhaps most noticed because he made Crown Princess Victoria and Prince Daniel's wedding cake. He has also baked sourdough bread for the Pope himself.

Everything from sourdough bread to chocolate cakes and ice cream is made here. Everything is made from scratch with excellent ingredients. Günters offers a large café and outdoor terrace overlooking Lake Åsunden, the perfect place for a latte and a bun.