Lassalyckan - Official Vasaloppet Centre

Ulricehamn
Centre for cross-country skiing, mountainbike and running
Get more out of your precious training! Come to Lassalyckan to put your training in focus and learn more about technique, equipment and nutrition. Lassalyckan is an official Vasaloppet partner, and as such it offers skiers and other sports enthusiasts quality-assured training options all year round.
Appointed as official Vasaloppet Centre
Being chosen as an official Vasaloppet Centre puts high demands on training options, accommodation and skills in technique and nutrition. The name is a guarantee of quality for training facilities specifically aimed at one of Vasaloppet's three sections: skiing, running and mountainbiking.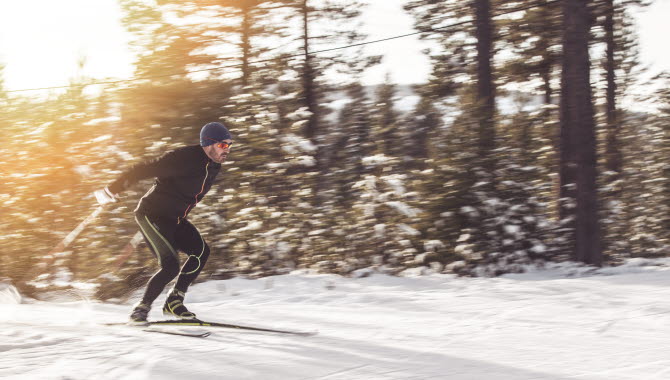 Courses and personal training
If you are looking to develop your technique and get a boost in your training, Lassalyckan's talented instructors can help you out. Get expert assistance with training planning and follow-up, join courses and camps for skiing, running and mountain biking. Packages are offered for the major events that include accommodation, food and service. This means you can focus on your performance and everything around it, whether you are a beginner, enthusiast or more experienced athlete.
Strong skiing tradition
Ulricehamn is famous for reliable snow conditions in West Sweden, and as a result it has a strong skiing tradition. This is the place where the national ski sprinter, Hanna Falk, and the three-time winner of Vasaloppet, Oskar Svärd, honed their skiing skills. Lassalyckan is now one of Northern Europe's most modern artificial snow facilities, and has been used for world cup competitions in cross-country skiing for that reason.