Tångabo Gårdsbutik

Hökerum, Ulricehamn
Authentic farm shop with café and interior design items
Tångabo Gård is a modern farm where you can enjoy home-made cakes in the café with a lovely view of pasture land and hundreds of contented dairy cows. The farm shop sells arts and crafts as well as food, all from selected suppliers and the farm's own products.
Locally produced cakes and shopping among hundreds of cows
When you come to the farm shop at Tångabo Gård in Varnum, between Borås and Ulricehamn, you are met by the smell of country air and freshly brewed coffee. Follow the aroma of the coffee into the café, where you can enjoy home-made buns, cakes and pastries, sandwiches and waffles - at the same time as enjoying the sight of the grazing farm animals.
In the authentic country shop you can browse the shelves for wheat flour, potatoes, oatmeal, muesli, beestings pudding and vegetables, all from Tångabo farm. There are also cordials, marmalade, flavoured salt, arts and crafts and interior design items from carefully selected suppliers.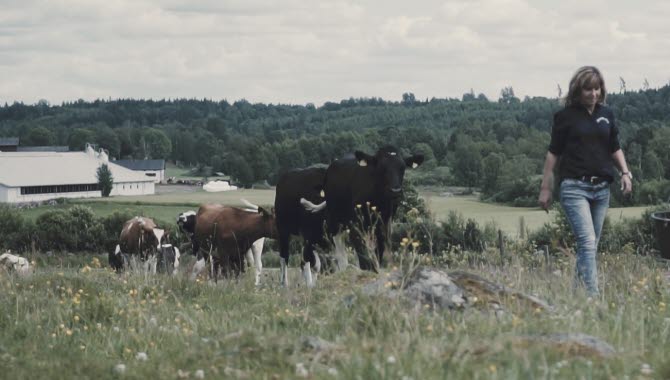 Modern farm with guided tours
Tångabo Gård is a family business and a modern farm, with a cow house for up to 230 dairy cows. The Sandberg family work in harmony with nature and also run an environmentally friendly arable farm. Guided farm tours can be arranged for larger groups of visitors. Take the opportunity to order Tångabo's delicious home-made savoury pies in advance.