Cycling holiday along the Sjuhäradsrundan trail

Borås, Uricehamn, Tranemo, Svenljunga
A cycling adventure for the whole family
A thousand lakes, deep forests and plenty of exciting places to visit make Sjuhäradsrundan a real holiday gem. This lovely cycle path is perfect to experience at your own pace.
Sjuhäradsrundan has everything to offer – beautiful countryside and natural landscapes, locally produced food and a wealth of cultural and historical places to discover. The easiest way to experience the trail is to book a ready-made cycling package (read more below).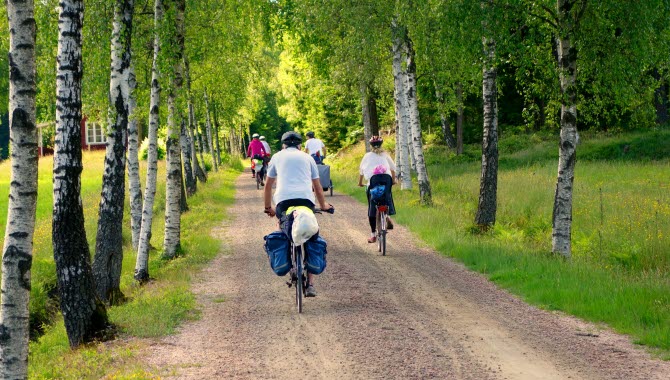 Photographer: Cykla och vandra i Sjuhärad
Cycling with ghosts and hawkers
During the Middle Ages, the Sjuhärad area was Sweden's southern border with Denmark, which explains all the ruins of fortresses and castles you might visit. The most well preserved is Torpa Stenhus and it is well worth a visit. Park your bike and take a guided tour, and remember to watch out for the infamous castle ghost.
Another historical thread that runs through to the present day is the textile industry. Once upon a time, hawkers – or knallars as they are called in Swedish – travelled around the countryside and sold textiles, metalwork and woodwork. Textiles are still an important local industry, and you can learn more about the innovative textile designers of the future with a visit to the world-leading Textile Fashion Center in Borås. You will be surprised at how many ways textiles are used today and fascinated by how they might be used in the future.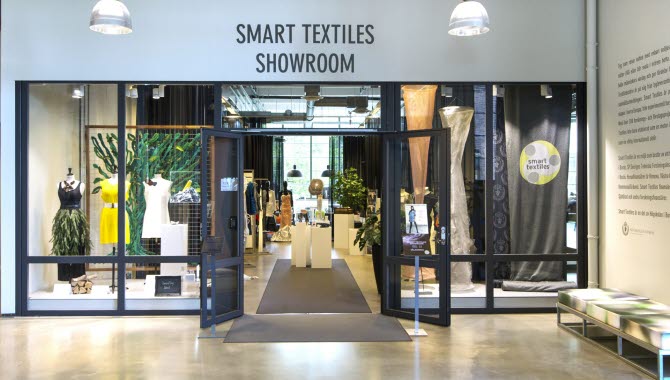 Everything for retro-nerds and collectors
Another worthwhile stop along the way is Glasets Hus in Limmared – supplier of the absolutely iconic Absolut Vodka bottle. Check out their permanent and temporary exhibitions and try your hand at blowing some glass!
Limmared is also a famous hub for collectors and retro-geeks where you will find a dozen shops filled with second-hand, antique and vintage delights. If you are an interior-design-crazy collector then this will be a dream stop – but you're going to need some bigger saddle bags.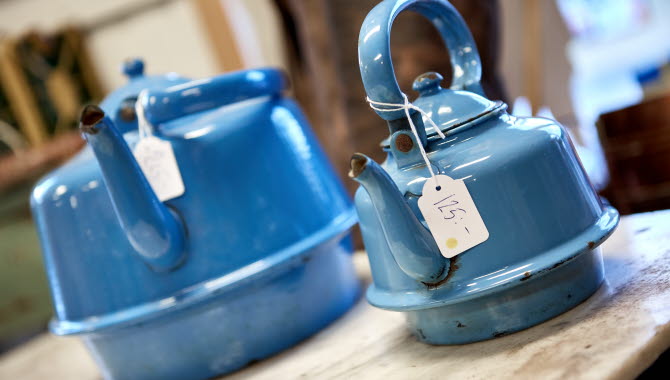 Photographer: Jonas Ingman
Enjoy the tastes of the countryside
The trail benefits from many different types of accommodation, which makes it easy to choose between a day trip or a longer tour over several days, with comfortable overnight stops along the way.
There are also plenty of restaurants and cafés to stop at. Don't miss the fabulous Restaurang Lago at Ulricehamn's kallbadhus or Hemma på Källebacka with its beautiful combination of farmshop, interior design accessories and café.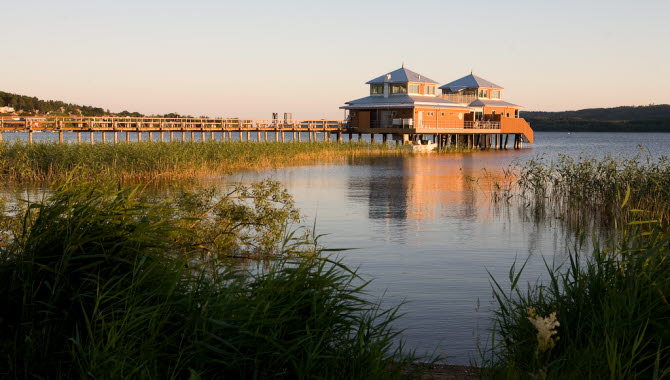 Photographer: Jan Töve/ulricehamnsturistbyra.se
Car-free railway embankments in beautiful countryside
Sjuhäradsrundan is a round trip of 150 km and 120 km of this is completely car-free. The route goes between Borås, Ulricehamn, Tranemo and Svenljunga. Although the bike path itself is asphalt and fairly flat it passes through a surprisingly hilly landscape, but you can admire the slopes as scenery without having to struggle up and down them. Most of the trail is on an old railway embankment so you will pass beautiful old station buildings, iron bridges and sometimes you will even cycle over the treetops!
The bike path runs through several nature reserves, including Torpanäset Nature Reserve and Korpeboberg's deciduous forests.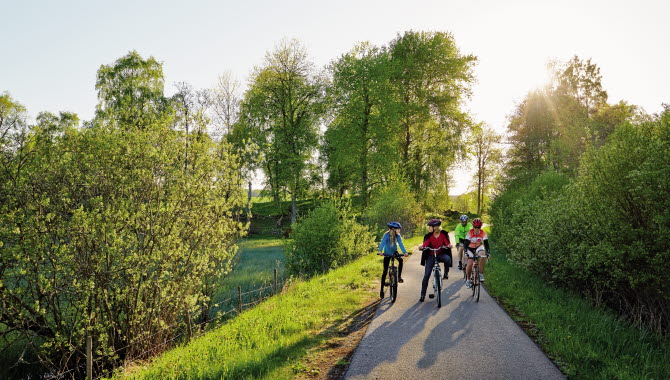 Choose your starting point
The trail can be divided into four stages. Ulricehamn-Tranemo, Tranemo-Svenljunga, Svenljunga-Borås and Borås-Ulricehamn. Borås and Limmared can both be reached by train.
The whole route is signposted with red markers.
Download a digital map of Sjuhäradsrundan or GPX file. You can pick up a printed map at tourist information centres.
Popular cycling packages along Sjuhäradsrundan
Luxury 3-day tour

Outdoor Support, Svenljunga
A luxury all inclusive package with lunch and dinner included. Overnight accommodation is at Hotell Solhem Park in Borås and Hotell Bogesund in Ulricehamn.
The package includes: Overnight accommodation, breakfast, lunch, dinner, luggage transfer and map.
Don't Miss: Take a walk along the picturesque cobbled streets in Svenljunga.
Around Lake Åsunden

Skotteksgården Camping & Stugby, Ulricehamn
This tour takes you on a scenic bike ride around the long and narrow Lake Åsunden, with views of spruce covered hills, and through two nature reserves.
The package includes: Overnight accommodation in a lake bungalow or camping barrel, breakfast, packed lunch, bicycle and map.
Don't miss: Make a stop in the dappled light of Korpebobergs deciduous forest and take in the beautiful views of Lake Åsunden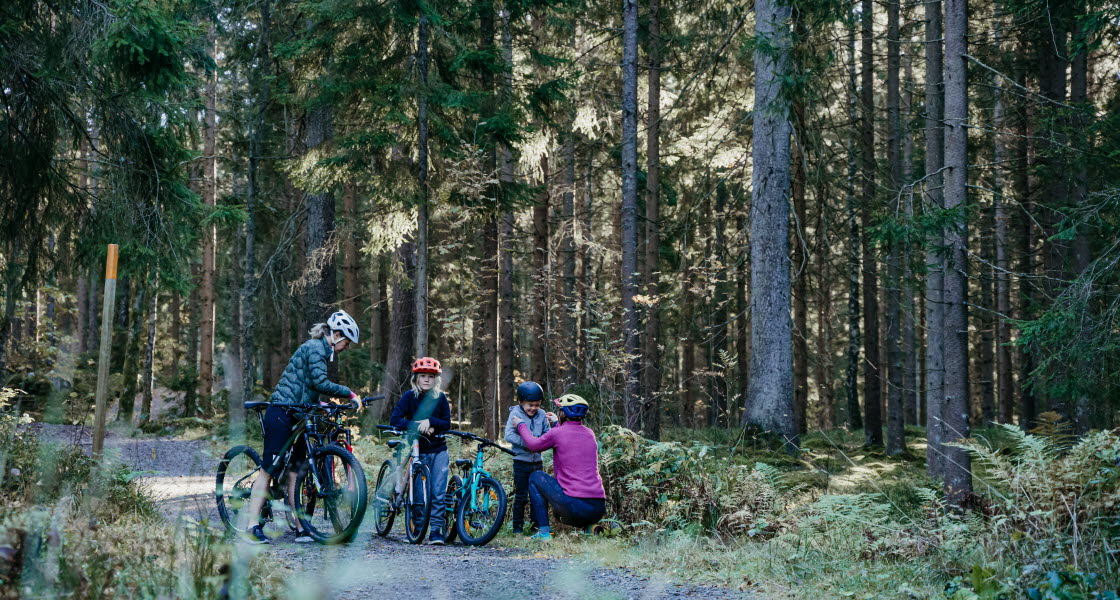 Tips for more cycling adventures
West Sweden is a popular destination for cycling. Discover all the heart racing mountain bike trails, meandering coastal roads and family friendly cycle paths.