Grundsund Kayak Center

Skaftö
Enjoy the coast in Bohuslän from sea level
Slip into your kayak and get to know the sea, the coast and the others in the group. Rent a kayak and glide along the beautiful coast of West Sweden on a warm summer day or a calm winter day. Curious seals or seabirds may well join you in your silent voyage on the waves. Enjoy a picnic lunch on the smooth rocks as a reward for covering all that distance under your own steam!
Courses and renting kayaks
Grundsund Kayak Center offers courses for beginners or those wanting to improve their skills, in addition to renting out kayaks. The courses in small groups, where safety drills are included as a basic part of the training. For those who are already reasonably good but want to learn more about the wind and the waves, book an exciting morning or afternoon course to get more knowledge and experience. If you are hungry for more adventure at sea, there are three-day tours with overnight camping, as well as six-day courses.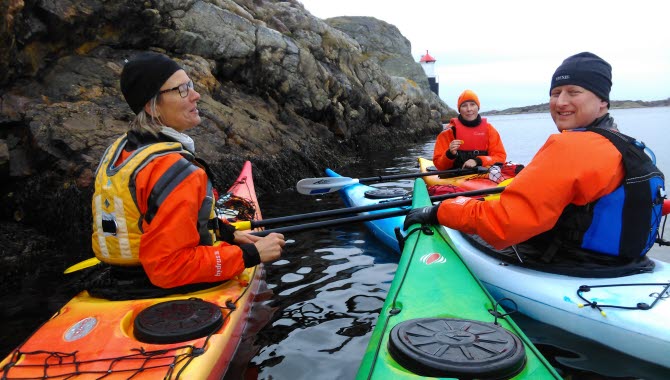 Guided tours
Grundsund Kayak Center runs tours with experienced guides for those who are interested in getting to know the area around Skaftö better. If you'd rather make your own way there, they can give you tips and information about different routes and where to camp and eat along the way so that you can get the best out of your trip.
Yoga and massage
In addition to kayaking Grundsund Kayak Center also offers yoga, massage and alternative medicine in collaboration with Balanspunkten.
InfoPoint
Would you like more ideas about what you can find nearby? Grundsund Kayak Center is a certified InfoPoint where you can pick up brochures and maps and knowledgeable staff can help with your questions about the area.