This autumn's seafood safari deals in Bohuslän
Browse some of Bohuslän's fantastic seafood safari deals, where you accompany a local fisherman on a fishing trip in the beautiful archipelago. You'll help empty lobster and crab pots, or harvest oysters and mussels. The outing is combined with lovely lodgings and good food in fabulous surroundings. A truly memorable experience.
Everts sjöbod's seafood package
Many people say that the oysters off Grebbestad are the very best. If you're interested in learning more about oysters, book an oyster tasting. You'll learn more about this famous delicacy, including how to open one in the best and safest way. If you'd rather come along to harvest the black gold of the sea, book a lobster safari. A local fisherman will take you out on the boat Tuffa to pull up lobster pots and maybe get your first catch. During the trip you'll be treated to Grebbestads algae crispbread with horseradish cheese, hot cups of coffee and beverages. The fishing trip lasts about 2 hours.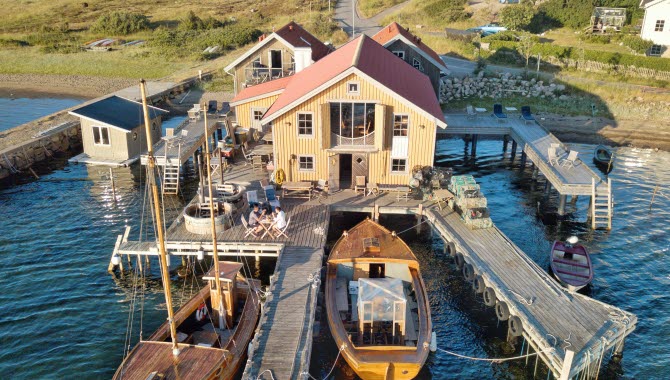 Photographer: Alex Vizeo_Loris Monteux/Westsweden.com
Marstrands Havshotell's seafood package
Shellfish, sparkling wine and a fishing tour – that's the combination in the seafood package at Marstrands Havshotell. To start the day, you join a local fisherman on a shellfish tour around the islands off Marstrand, and the traps are emptied. Back at the hotel you relax in our spa, and later in the evening it's time for a shellfish dinner.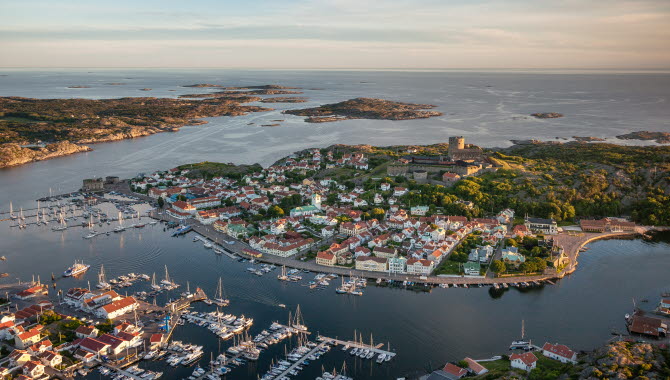 Photographer: Per Pixel Petersson
Gullmarsstrand Hotell & konferens' seafood package
Gullmarsstrand's seafood safaris include comfortable stays and good food in combination with shellfish trips – Lobster safaris, Oyster and Mussel adventures or Langoustine safaris. These all take you on a scenic and exciting boat trip during which mussels and oysters are picked, or lobster and langoustine pots emptied. Back at the hotel, the spa beckons and later a two-course dinner in the restaurant.
Photographer: Jonas Ingman - M2B AB
Stora Hotellet's seafood package
Stora Hotellet in Fjällbacka has a package in which you'll enjoy a beautiful and relaxing environment as well as the freshest shellfish for dinner, a tranquil night's sleep and then a lovely breakfast with a sea view. If you'd rather have an experience, book a Lobster fishing safari. This begins, sensibly, with lunch. Then you're off on a lobster fishing trip in Fjällbacka's archipelago, with an on-board coffee break. Back at the hotel you can relax before settling down to a 5-course supper in the hotel restaurant.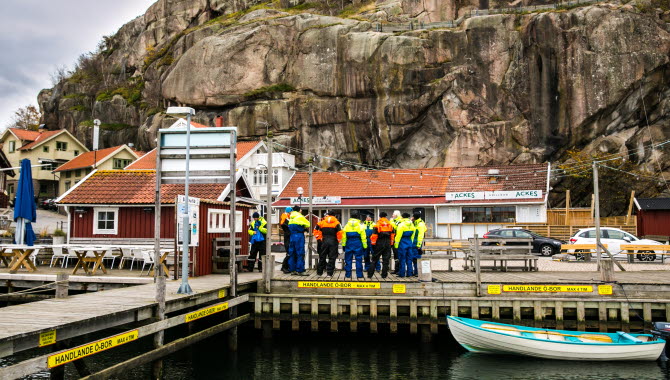 Photographer: Madeleine Landley
Väderöarna's seafood package
You start the day with a boat trip from the village of Hamburgsund, passing through the beautiful archipelago, with your final destination the islands of Väderöarna. After lunch you head to sea again – hauling up langoustine and lobster pots. Next it's time for a 'granite sauna' and/or (depending on time of year) a wood-fired hot tub. In the evening you get a three-course meal, with langoustine or lobster as the first course.
Photographer: Roger Borgelid
Seafood safari with Brygghuset and Slipens hotell
The Lobster fishing safari begins with lunch at Brygghuset. This is followed by a 3-hour lobster fishing trip departing from the jetty by the restaurant. Once back on land again, warm mussel soup and a floating sauna and jacuzzi await those so inclined. In the evening a 4-course lobster dinner is served. The Lobster safari are intended for slightly larger groups.