Scandic Laholmen

Strömstad
Perfect accommodation by the Koster Sea
You'll find Scandic Laholmen tucked away on Strömstad's rocky coast, the salty Koster Sea outside its windows - the perfect place for body and soul. There is space here for creative meetings, sea activities, delicious food, top-class drinks and festivities, all compiled to suit your preferences.
A hotel experience to savour
Scandic Laholmen can offer you modern rooms in the centre of Strömstad in West Sweden, with Koster Sea as your closest neighbour. There are relaxing seafood safaris to join or exciting smuggling trips, not forgetting five-a-side matches and the piano bar quiz. Discover the Koster Islands on a bicycle or have an invigorating dip in the open-air baths.
Photographer: Scandic Laholmen

Photographer: KARIN BJOERK
Food and entertainment
Enjoy the easy ambience in the restaurant, with stunning sea views to complement its high-quality food and drinks. Using the Koster Sea and landscape as their source, the devoted chefs produce seasonal dishes based on ingredients from local producers. Hang out and relax in the lounge and piano bar. The Oxygen night club downstairs plays all the best party tracks, past and present.
Photographer: Jan Simonsson

Photographer: Jonas Ingman
Conference room with sea view
Whether you're planning a small management group meeting or a really big kick-off, Scandic Laholmen can provide you with a very complete conference experience. Almost all the conference rooms have sea views.
InfoPoint
Would you like more ideas about what you can find nearby? This hotel is a certified InfoPoint where you can pick up brochures and maps and knowledgeable staff can help with your questions about the area.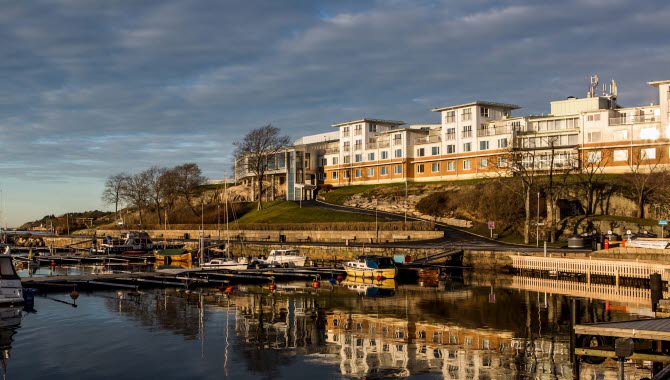 Photographer: Jan Simonsson