Åkersta wine and spirits museum

Sexdrega
A well-preserved liquor store, where Sexdrega's sparkling punsch was manufactured
Alcohol sales in the small community of Sexdrega in Svenljunga local authority lasted no more than 11 years. Since the closure, the shop has been cocooned in the 19th century. The contents of barrels and bottles have long since evaporated - apart from that everything remains the same.
About Åkersta
It all started in Borås in 1865 when three gentlemen founded the company Hedenlund & Co. The company sold wine and spirits in the area and bought the inn in Sexdrega in 1872. They built Åkersta, just across the road from the inn, with a wine and liquor store on the ground floor and a six room dwelling upstairs. The store opened in November 1886. Eleven years after its opening, the store was closed down. In the space of just a few years, sales had halved. The reason is thought to have been a combination of the burgeoning sobriety movement and the newly opened state-run alcohol merchants - both aimed at reducing the consumption of alcohol.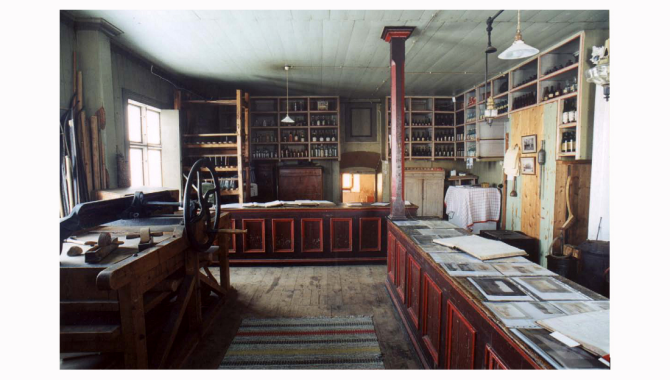 Photographer: Åkersta Vin och Spirutiosa
Sparkling punsch - a specialty
During the eleven years of wine and liquor sales in Åkersta, a detailed record of sales was kept with the title and home address of patrons. The greatest demand was for punsch, cognac and brandy. Ready-mixed punsch went on sale in Sweden in the 1840s and most liquor stores had their own recipes. In Sexdrega, the specialty was locally produced sparkling punsch. Other spirits were delivered from the distillery in Gällstad, seasoned or sold unseasoned. Patrons consisted primarily of the upper class, but also by stokers and linemen. Customers brought their own bottle and had it refilled from the store's barrel. A new bottle could be purchased, where needed.
Present day Åkersta
The store and accommodation may be visited by arrangement.
Footnote: The texts are taken from the County Administrative Board's writing about the museum.