This is Svenljunga and Tranemo
The southeastern part of western Sweden in the county of Västra Götaland is home to the local authorities of Svenljunga and Tranemo. The area formerly known as Kind also included parts of the Mark and Ulricehamn local authorities. The Swedes fought the Danes for freedom in these parts and, funnily enough, freedom is another reason to visit today.
The reason why we choose Svenljunga and Tranemo
A few years ago, when we were producing a magazine, we asked a number of our friends and colleagues why they choose to live here. In addition to the usual reasons; that they were born here, had jobs etc., the answer of many was - freedom.
Here we have the freedom to watch the sun go down on our nighttime walk around Lake Såken, the freedom to let our canoe glide along Lake Fegen, and the freedom to strip off and swim in a lake alone. The freedom to easily and quickly get to Western Sweden's largest city, Gothenburg and the freedom to just as quickly escape from there, back to tranquility, nature and calm waters. Here, we are conveniently located, close to the continent and airports but still tucked away enough to make us feel completely free!
Our history - Textiles, War and Absolute
Svenljunga and Tranemo are part of the Borås region, also known as Sjuhärad and Knallebygden. 'Knallar' were the traveling salesmen who from the 16th century onwards walked from farm to farm to sell handmade crafts and textiles. They were a popular part in people's everyday lives. Not only for their goods but also because they brought news. Gradually, the region began to develop into a textile cluster and our area, like our region, has a textile heritage with several manor houses linked to the textile industry. Textile businesses still in the area include Blåkläder and Elmo i Svenljunga, however the region is also home to Gina Tricot, Ellos, Craft, the Swedish School of Textiles and others.
Nature here is characterised by hundreds of lakes, many watercourses and deep forests. Ätran, the largest watercourse, has been a natural waterway through the centuries, which led to the creation of the area Ätradalen. Ätradalen connects Falkenberg with Falköping and is home to the cycle route Ätradalsleden and you will also find historical waterway stop-offs, such as Klevs Gästgiveri.
Photographer: Anette Nordberg
When you choose to come here, you will set foot in historic borderlands. The border with Denmark passed through here, which is characterised by many of our cultural heritage sites and ancient monuments. Here you will also find medieval treasures such as Torpa Stenhus, which is now a popular tourist destination.
In addition to textiles and border wars, our area has a rich glass-blowing heritage. In the community of Limmared, you will find Sweden's oldest glassworks to still be in use. The famous Absolut Vodka bottle is manufactured here and Glasets Hus is a popular tourist destination, which has encouraged many surrounding businesses and clusters to emerge.
Come and see us
From the northwest you can reach us by train via the Coast-to-Coast line (Gothenburg-Kalmar / Karlskrona), by bus or car on Road 40 from Gothenburg and then Road 27 from Borås. Travel time is a little over an hour, by car, from Gothenburg and approximately 30 minutes from Borås. If you are coming from the west, from Kinna / Skene, Road 156 will get you here.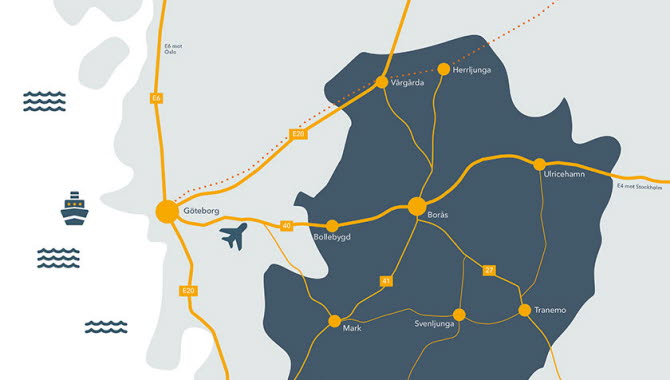 Photographer: Boråsregionen
From the south, you can reach us via Road 154, which also passes the famous tourist destination of Ullared, which is only 20 minutes from our Mjöbäck. If you shy away from the crowds at Ge-kås, we suggest that you take the road past the Fegen nature reserve, which starts in the town of the same name. Here, you will enjoy untouched nature with a rich bird life and an excellent destination for kayaking. Over our eastern border with Småland you are a short trip away from major tourist destinations such as  High Chaparall, Isaberg Mountain resort etc. If you choose to travel here by air, you will reach us from Jönköping and Gothenburg airports, both of which are approximately an hour away.
We welcome you to experience freedom with us!