Backa Loge

Kalv
Charming accommodation far away from the hustle and bustle
You'll find Backa Loge in the heart of the beautiful Fegen nature reserve, far away from the everyday hustle and bustle. Just take each day as it suits you - there are so many different ways of relaxing here. Enjoy a peaceful hour or so on the lake in a rented rowing boat or canoe. When the weather is fine you can lie on the beach, swim or stroll in the meadows and forests next to the coast.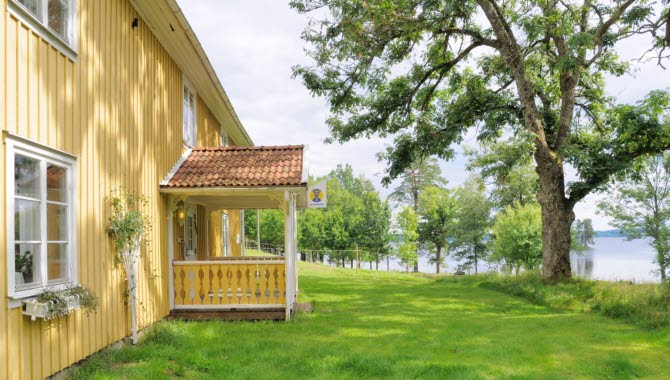 Photographer: Martin Jacobson
Wonderful countryside and nature reserve
Enjoy the view over the lake Fegen in Kalv, West Sweden. Catch some perch and grill them in the barbecue hut in the evening while listening to the distinctive call of the diver birds. Relax with a coffee and waffles on the lakeside terrace at Backa Loge café, with its enchanting views and a rich variety of birds. Filled with impressions from countryside and culture, come the evening you can put your feet up in the friendly hostel and sleep soundly in its very comfortable beds.
Large groups
If you're looking for the perfect place to get married, look no further! You can have the ceremony itself in Sandvik church and take a boat across the lake to Backa Loge for the reception, then end the evening in a lovely bed at the hostel. The following morning we can offer the newly-weds a delicious brunch. This traditional building is newly renovated and well suited for conferences as well as family reunions and get-togethers with friends - in which case you can rent the whole building.
InfoPoint
Would you like more ideas about what you can find nearby? Backa Loge is a certified InfoPoint where you can pick up brochures and maps and knowledgeable staff can help with your questions about the area.