Day trip starting in Grönemad, Grebbestad
Source: Day trip starting in Grönemad, Grebbestad
A wonderful day trip starting in Grönemad, Grebbestad.
Paddle on your own, starting in Grönemad, Grebbestad:
Start your day at the kayakcentre Skärgårdsidyllen Kayak & Outdoor and paddle ahead the islands Gåsöarna. Look up at the steep cliff walls between North Gåsö and Gåsöhumpen where some adrenaline junkees jump of the 10-14 meter high cliffs to swim in the ocean. Then, depending on the weather conditions and the level of experience, choose to paddle inshore or outshore proceeding after Gåsöklippan (the Gåsö cliff).
If you choose to paddle inshore, you will paddle between Big Kännskär and Big Gåsö, and take sight on Solust and the shell beach at the north east side of Pinnö. The passage between South Gåsö and Solust can be a bit rough as the sea opens and no sheltering rocks. At the inshore side of Solust you will find an outdoor toilet. Enjoy some food at the beach or take a swim in the beautiful clear water. Bring your goggles and snorkel! Don't pick the oysters as they belong to the landowner. If you want to taste or learn more about oysters we recommend you to book a guided tour with Skärgårdsidyllen Kayak & Outdoor, or Bröderna Klemming.
From here you can either turn back to Grönemad, or continue to paddle around the island Otterön before you head back. They route back to Grönemad from Pinnö is inshore and follows the coastline where you can enjoy the view of genuine fisherman huts, fishingboats and the daily life of the small fishing village at shore.
If you want to make a longer trip, you can continue paddling south of Pinnö ahead Otterön. If you're lucky you can spot seals at Testholmarna. Paddle close to the cliffs to stay away from fast going boats, and to get closer to the wildlife but without interfering with the animals.
When the weather conditions are good, experienced paddlers can take sight on Big Måkholmen to have lunch here. The rout goes by the lighthouse at Otterön, followed by the sound of Klövudden (where there is a outdoor toilet), and then continues to Big Måkholmen. You will find a beautiful beach at the east side of Big Måkholmen where you easily can reach the shore and pull up your kayak. A good reminder is to bring your equipment from your kayak, and pull the kayak a few meters from the beach to make it accessible for swimmers.
At Måkholmen you will enjoy a fantastic view of the horizon and the most beautiful sunset. In south east direction you can see all the way to the famous Weather Islands. In the middle of the island you will find an old labyrinth made of stone. This island is a very popular overnight stay. Just have in mind that the weather conditions easily can change, and that you are more exposed for strong winds and waves when you are outshore. Take a stroll over the cliffs to explore this wonderful island and its birdlife.
Leaving Big Måkholmen you will head east between Otterön and Musön. Looking at Musön you will see the big rocks torn up against the sky, and discover a big amount of stone formations that people put there like artwork. They are not to be mistaken by the old Norse stone formations or relics as you can see at Otterön. If you keep south in the sound you can turn in through Musö-sältan and continue by the south side at Björnåsen. You will find popular overnight places at the north east side of Musö, and at Small and Big Brattholmen. The project Hållbar Skärgård (Sustainable Archipelago) will establish solar powered toilets here.
Now you are inshore and close to the coastline of the mainland. Take the chance to get ashore at TanumStrand or Grebbestad and stroll the bridge of Grebbestad to explore the pulse, have an icecream or discover the many restaurants and shops. Then you can continue in north westly direction between the ligthouses at Svinnäs on your way back to Grönemad. You can paddle close to the coastline inshore at Lökholmen, Porsholmen, Bastholmen before returning to the beach in Grönemad where you started your trip.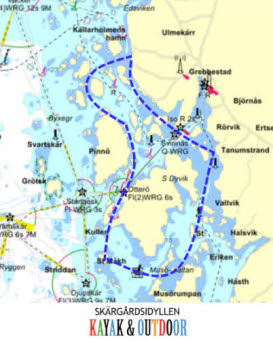 Want to stay longer?
Skärgårdsidyllen Kayak & Outdoor are renting out tents and other camping gear. There are severeal beautiful camp sites at the islands Käften, Krossholmen and Lökholmen. If you prefer a more comfortable sleep, there are plenty of accommodations to choose between in the area of Grebbestad.
More information and recommended tours:
Here you will find more recommended routes and other important information for the independed paddler:
https://www.skargardsidyllen.se/en/self-guided-tour/
https://www.skargardsidyllen.se/en/kayak-holiday-grebbestad/