Treat yourself to a mid-week weekend to soak up fantastic artwork and sculptures. In Trollhättan and Vänersborg there are plenty of local creations in all their forms, and you can get your dose of culture with us. Stroll around among cafes and art galleries on your own little art tour!
Day 1 - Art tour through Trollhättan 
Stop 1 - Fresh air + culture = true 
Get out into the fresh air and enjoy the surroundings while you walk our very own Sculpture Tour. Along the canal in Trollhättan there are several differens sculptures placed and at the Tourist Office you can stop and pick up a guidebook to learn more about them.  
Stop 2 - Innovatum District 
After a lovely moment in nature, it's time to start exploring the art indoors, and you start at Trollhättans Art gallery. Here you will find several different exhibitions of international, national and local contemporary artists every year. 
Since you're already in the Innovatum District, you can take the opportunity to have a nice lunch. Here you will find NOVA - food and meetings that serve delicious lunches and some nice sweets for those who crave dessert. 
Stop 3 - Art in the city center 
Time to move on to the center where you will find two of our local galleries. Gallery Gustafsson, a personal small gallery, exhibits both sculptures and paintings from various national artists that they meet during their travels through Sweden. At Ateljé A. Björk you will find Angelina Angela Björk's own art, take the opportunity to take in her own work and meet the artist herself. Also stop by Handkraft, a shop and gallery with paintings and crafts from local creators. 
Day 2 - A dose of culture in Vänersborg 
Stop 1 - Restad's sculpture and culture park 
After a good nights sleep and a filling breakfast at your hotel, it's time to move on to Vänersborg, and today you'll also start with some fresh air! Restad gård is a large green area by the water, and here you'll find both a sculpture and culture park. See the fascinating sculptures from both national and international artists, or learn more about the history and old buildings of the area. 
Stop 2 - Lunch in town with culture for dessert 
Fill your stomach with a good lunch at Folkets hus. After that, it's time for your own little art tour in the city center, and you can start in Vänersborg's Art Gallery, which is under the same roof. In bright and pleasant locals, several exhibitions are shown every year with Swedish and international artists. If there is enough time, we suggest making a detour and step straight into the 19th century at Vänersborg's museum, and follow the tracks of explorers in Sweden's oldest museum environment.  
Stop 3 - Coffee break the classic way and galleries in the city centre
What is an art tour without a break for coffee? Whenever it's convenient, we advise you to settle down at Nordfeldt's patisserie - a classic café in the middle of Vänersborg that was founded by the Nordfeldt family in 1900. The pastries here are artisanal, filled with quality and love. Do you want to taste a classic? Ask for a blondie. 
Then walk a few minutes to Galleri3 at Edsgatan 5, the charming little gallery with a varied and beautiful selection. Finally, make your way to Några målare gallery - a studio and gallery minutes away in one of the city's oldest wooden houses.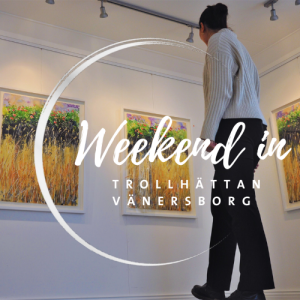 Good to know
Timeframe: 2 days
Rec. period: Spring, Autumn
Rec. days: tue-wed alt. wed-thur
Think about: Check the opening hours for every stop while planning. 
Why in the middle of the week?
The best time for your art-weekend is in the middle of the week to best match the openings hours of the businesses. Of course, you can also go here on the weekend, with the risk of missing a stop.