Lennartsfors lock station

Lennartsfors
This lock staircase is one of the most impressive in the canal
Lennartsfors lock staircase is the most impressive in the Dalslands canal after Håveruds. The locks are merged into the rock and after the locks follows a mountain canal with high edges. Here you will also find a nice summer café.
The locks are merged into the rock and after the locks follows a rock canal with high edges. The sluice staircase consists of three locks with a total level difference of 7.5 m. Just above the sluice stairs, Dalsland's canal is crossed by a country road bridge (flap bridge) with 3 m free height. .
When you arrive at the upper lock from the north (from Lake Foxen) you enter a long, narrow fairway. This is separated from the flowing water down to the power plant by a narrow stone pier. In the water area above the stone pier, there is usually strong current, especially when the water level is high. Boats coming from the north moor at the jetty. Here is a so-called "call station" with written information on how to contact the lockkeeper. For boats coming from the south, a green buoy marks the part of the waiting bridge that does not hold 1.8 m depth.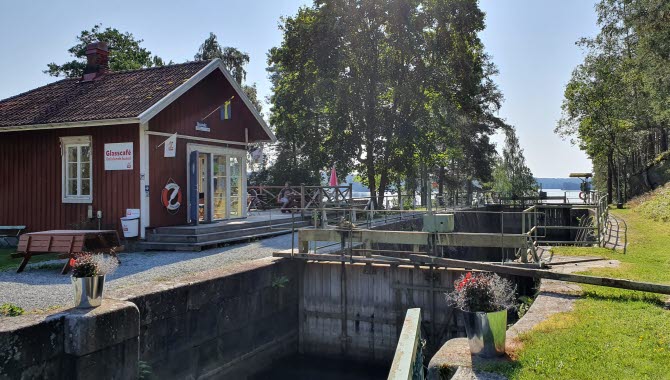 Photographer: Emma Augustsson
Nice summer café
When the lockstation is open so is the small summer café. Sit on the veranda and eat some icecream while looking on the boats passing by. This is one of three lock cafés by the Dalsland canal.
Facts
Lock chambers: 3
Elevation: 7.5 m
Duration: 30 minutes
Some history
Already in the 16th century there was a water mill here at Ränkforsen. However, something that can be called a real community did not happen until 1839 when Lennartsfors Bruk was founded and the resort got its name after the owner Lennart Uggla. The mill manufactured everything from boats to mock cups and to facilitate transport to and from Lennartsfors, the sluice staircase was built. The mill was closed down in 1877 and instead a wood grinding plant was established in Lennartsfors. In 1948, the next industrial era started when Lennartsfors Mekaniska Verkstad, in collaboration with Facit in Åtvidaberg, began manufacturing duplicators and counting spins. The company remains and the business is today focused on small-scale forestry. Smaller sawmills and the so-called Iron Horse belong to the product range.
One more thing about Lennartsfors. From here comes "Säcken". We mean, of course, the ski king Thomas Wassberg.