Havets Hus

Lysekil
Get close to the sea and meet hundreds of fascinating species
Live life in Västerhavet for a while, and get close up to hundreds of fascinating marine species from the lesser-spotted dogfish to the long spined sea-scorpion. With around 40 aquariums and other exciting activities like seal safaris and beach schools, no wonder Havets Hus is one of the most popular destinations in Bohuslän!
Hundreds of different species
Havets Hus is a salt-water aquarium that displays hundreds of different species from Gullmarsfjorden and Västerhavet. The aquarium has many exciting things to offer and your journey begins in the shallows by the beach, continuing through Västerhavet's different environments, all the way down to the deep dark depths.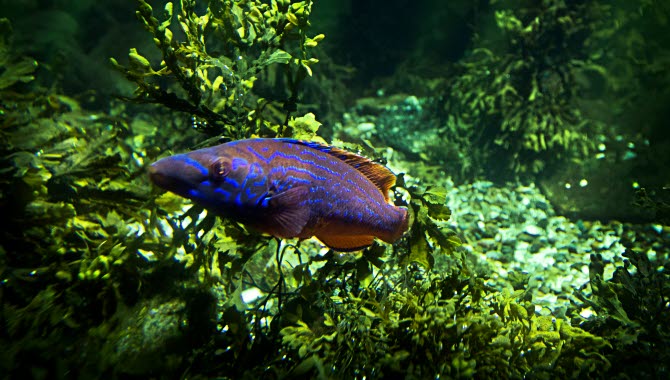 Photographer: Andreas Olsson
Surrounded by water but still in dry shoes.
In the tunnel aquarium you walk in dry shoes surrounded by water, among thornback ray, cod and conger eels. In Blågyltan assembly hall you'll be captivated by the marine life behind the huge sheet of acrylic glass as you sit in front of the cylindrical aquarium. The hall is turned into a film theatre several times a day when short marine biology films are shown.
Feel animals from the sea
Feel the starfish and hermit crabs in tactile aquariums, play and learn at Havets Hus beach school, go on a seal safari, be inspired by a guided tour, or you can see divers feed the animals. At Havets Hus you can also play exciting mini-golf or take part in different themed weekends. The range of activities varies during the year but there is always something interesting to do at Havets Hus. On your way out of the aquarium you can stay and eat something good from the Havets Hus Bistro & Café while enjoying the wonderful views of Västerhavet.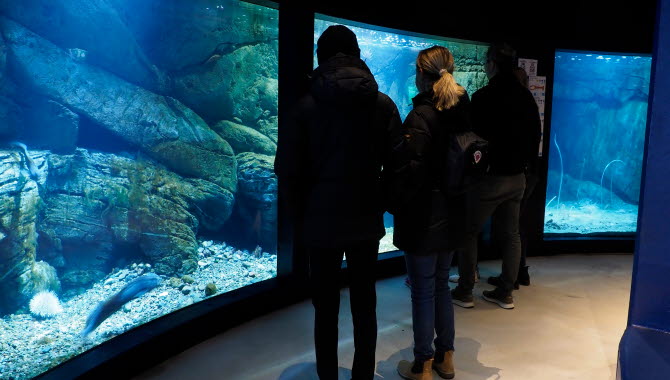 Photographer: ROJA PHOTOGRAPHER