Arena Älvhögsborg

Trollhättan
Swimming and fitness activities for all ages and seasons
Arena Älvhögsborg has the best facilities for swimming, sports, wellness and events under the same roof in the Fyrstad region. You can swim laps, throw yourself down the water slide and bask in a 34-degree hot bath. In the summer you can cool off in the lovely outdoor pool, in the middle of the city.
Wellness and sports facility
Arena Älvhögsborg lies in Trollhättan, one hour's drive from Gothenburg, and is one of Sweden's largest swimming, sports and wellness centres. As well as the pools, gym, sports halls and bowling alley, it is also an excellent venue for large music and sports events, congresses and courses.
If you are keen on training there is a wide range of programmes including gym, group training, crossfit, personal coach, various health services and courses. When it's time to relax, check in at the wellness area with its jacuzzi, steam bath, massage, solarium and floating.
Companies and groups can book one of the sports halls for soccer, hockey, basketball, volleyball and badminton, to give some examples.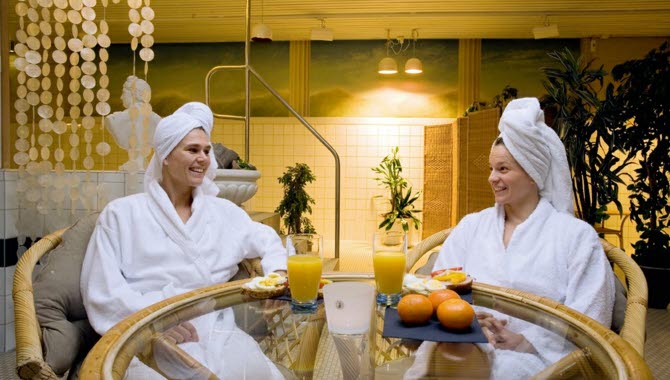 Fitness swimming, water slides and outdoor pools
At Arena Älvhögsborg you can swim laps, throw yourself down the water slide and bask in a 34-degree hot bath. There is a pool for small children to splash in and the sauna is next to the changing rooms.
The outdoor section opens in the summer with pools for everyone including a 50-metre pool, a training pool and children's pools. There is also a playground for the young ones and a jumping tower with boards at different heights. Large areas of grass give outdoor space for sunbathing, beach volleyball, an adventure track and a kiosk.
Please visit the website for more information on all the options and group training!
Relaxation department – a soothing oasis
The relaxation department is what you need for a moment of peace and recovery. Here you will find a whirlpool, sauna, cold bath, foot bath and a terrace with fantastic views of the river Göta älv. It is also possible to rent the entire relaxation area for the group of friends or colleagues.